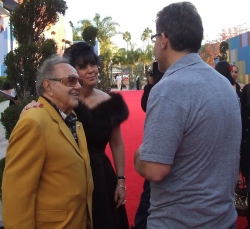 Hollywood, CA, November 16, 2010 --(
PR.com
)-- A new episode of the Universal Studios, The SyFy Channel's TV Show, "Hollywood Treasure" will be aired on Wednesday, November 17, 2010 at 10:30 p.m. This episode entitled "The Munster Hunt," will feature Author Helen Darras and the sale of the "Eddie Munster" 1st Season of "The Munsters," 1964 velvet coat worn by the actor who played the role. The coat included a notarized, certificate of authenticity signed by both the actor who wore the coat in the old TV show & his Mother. Also included are the envelope his mother hand addressed to Helen with an accompanying hand written note from the actor's Mother, regarding the coat documents she sent to Helen.
In this episode, Helen Darras arrives to the offices of Joe Maddalena, who serves as host to the "Hollywood Treasure" TV Show. Helen sits down with both Joe Maddalena & Tracey McCall, the show's Special Events Coordinator, and gives a history of her writing and publishing of an authorized biography regarding the life of the actor who played the role of "Eddie Munster" in the 1964-1966 TV Sitcom "The Munsters." The coat is then consigned to be auctioned during an event at Universal Studios Property at the Globe Theater in Hollywood, CA, which took place on November 6, 2010, prior to the release of this November 17th episode.
As a show of support, several high profile Hollywood Celebrity friends of Helen Darras joined her for the red carpet event at the Globe Theater, as well as the TV taping of the actual auction in the Globe Theater. Actor Jeff Conaway, best remembered for his role in the Major Motion Picture "Grease" and the TV Sitcom "Taxi" was on hand to greet guests with his fiance Vikki Lizzi. Also, the King of Kustomizers Mr. George Barris who is known for his 60 year career in designing Hollywood Picture & Television Cars, was happy to interview with the cast & crew of this new SyFy series "Hollywood Treasure." Another friend of Helen's, Kiley Majeski, who hails from a family that worked many years in the area of "Hollywood Audience Acquisitions," as well as her sister & friends also enjoyed visiting the set of the show.
November 17th television viewers will enjoy the excitement of a peek into the history of some of Hollywood's Finest Historical Props. Very special thanks go out to other cast members, Jonathan Mankuta, Fong Sam, Brian Chanes, & Executive Producer Bruce Toms. Helen Darras is also looking forward to working with Universal Studios, SyFy Channel, Bruce, Joe and their wonderful staff on upcoming SyFy productions.
###