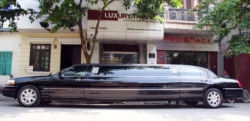 Hanoi, Vietnam, November 18, 2010 --(
PR.com
)-- Vietnam's First Luxury Tour Operator (www.luxurytravelvietnam.com) to teach travel professionals to sell luxury tourism products to Vietnam and Southeast Asia.
Luxury Travel Ltd (www.luxurytravelvietnam.com) to search Spanish Luxury Tour Operators and Travel Agencies at Fitur 2011 in Madrid, Spain from 19 to 23 Jan 2011.
Fitur is a meeting point for tourism professionals in which they can establish lines of action, strategies and business alliances to energize and consolidate the tourism business, innovating to answer the changing demands of the market.
Tourism promotion agencies, operators, hotels, travel agencies, consultancies and experts in international tourism management and development will all meet in Madrid for Fitur.
Luxury Travel Group Ltd will participate in the FITUR 2011 as an Exhibitor for the first time. The aim is to promote the Vietnamese tourism products in business, special interest and the leisure luxury segment, which is addressed to people who want to live a unique experience, with personalized service, privacy, tranquility and simplicity of this emerging luxury destination of Southeast Asia.
Different destinations of Southeast Asia combine history, culture and cuisine or an exotic destination with excellent service to create a unique experience.
Benefits of the face to face meeting at the FITUR show, according to the CEO and Founder Pham Ha include:
· Understand what luxury and luxury travel really means to you.
· Discussion about family trips to Vietnam and Southeast Asia.
· See for yourself before you sell your real experience to customers.
· What niche travel products available for luxury travelers?
· How to sell luxury travel products to the mass, class and everyone in between?
· How to increase your sales volumes and maximize profits for luxury tour operators, travel agencies with worry free to work with local experts?
· How Luxury Travel Company's brochure and luxury travel guide book help travel professionals reach their peak sales performance?
· How local luxury travel advisor team works and collaborates with the travel experts in Spain effectively around the clock for the benefits of their customers?
· How to exceed customer's expectations and become lifetime customers for the travel company?
· Are all local tour operators are the same? If the tour operators you are looking for are an award winning luxury tour operator to Vietnam and Southeast Asia destinations.
Ha Pham, founder and CEO of the Luxury Travel Company (www.luxurytravelvietnam.com) believes the time is ripe for high-end travelers worldwide. Last year, Luxury Travel Vietnam Company served 10,000 satisfied discerning travelers and many of them are VIP and High ranking officials.
Luxury Travel Co., Ltd is Vietnam's first luxury tour operator founded in 2004 to catch this new trend and promote niche tourism products to high end travelers. The company's depth of experience and large infrastructure enable it to create unique itineraries with the operational confidence to fulfill client expectations.
"We promote our luxury travel products at Fitur 2011 and aims Spain market. Interested travel colleagues can make an appointment with us and further discussion about this profitable market share in the emerging luxury destinations such as Vietnam and Cambodia," said Pham Ha, Founder and CEO of Luxury Travel Company.
Book an appointment in advance with Mr. Pham Ha at fitur11@luxurytravelvietnam.com, log on to website
www.luxurytravelvietnam.com
or visit the stand 2D02 sharing with VNAT, Vietnam National Administration of Tourism.
###