NC Company Partnering with South Africa Company to Offer Medical Food Product Internationally
Source-Omega licenses Solal Technologies of Johannesburg, South Africa, to offer novel Vegetarian Omega-3 (SM) product with DHA and EPA from sustainable algae oil source.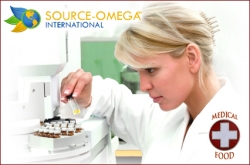 Chapel Hill, NC, November 23, 2010 --(
PR.com
)-- Source-Omega, LLC is now offering private labeling of its vegetarian algae oil in international markets.
The company has licensed Solal Technologies of Johannesburg, South Africa, to offer Vegetarian Omega-3 (SM).
"Solal is an ideal business partner for Source-Omega," said Dr. Scott Doughman, president and founder of Source-Omega. "Both companies have the same goal, offering a product that fills an important need not met with modern diets and lifestyle."
The oil has been licensed for sale in the South African pharmaceutical market under a "medical food" label licensed to Solal under the Pure One™ brand.
"Medical food" is a relatively new category established in the 1988 amendments to the Orphan Drug Act. The U.S. Food and Drug Administration requires that "medical foods" contain only ingredients classified as Generally Regarded as Safe (GRAS). Algae oil omega-3, which is entirely plant-based, meets this standard, however the Pure One™ label in the U.S. and South Africa are designated Dietary Supplements and are not a drug.
Solal will offer Vegetarian Omega-3 in pharmacies, behind the counter, as recommended by physicians for management of a low omega-3 index and high triglyceride levels. It will also be offered as an anti-aging non-prescription supplement. Vegetarian Omega-3 will be available directly to patients, through retail pharmacies, physicians and health stores based in South Africa.
"We are pleased to have this relationship with Source-Omega to offer a product that is so important to maintaining health," said Colin Levin, a vegetarian and a director of Solal. "This will be a win-win-win, for Solal, Source-Omega, and, most importantly, for our patients and customers."
Source-Omega is also working on expanding its markets through other private labeling arrangements outside the United States.
The basis of the oil is Source-Omega's patent-pending formula of DHA and EPA for cardiovascular, metabolic and cognitive health management, offered in supplements and medical food. Pure One™ offers optimized omega-3 dosages and clinically proven triglyceride lowering benefits with documented results.
Certain omega-3 dosages have been proven effective for management of plasma lipids. As a medical food, it can fulfill the omega-3 requirements associated with DHA and EPA deficiencies in vegetarians, people who cannot eat fish, and those with special dietary needs not met by omega-3 seed sources such as flax oil. Vegetarian Omega-3(SM) is offered in a soft carrageenan capsule.
About Solal Technologies (Pty) Ltd: Located in Johannesburg, Solal Technologies works and supplies online to physicians, pharmacies and other outlets based in South Africa. Other divisions of Solal include The Compounding Pharmacy of South Africa, an Integrative Medical Center and a Health Intelligence magazine covering the science of health. For more information please visit www.solaltech.com
About Source-Omega, LLC: Located in Chapel Hill North Carolina, founded in 2007, Source-Omega developed the Pure One™ Formula out of the published academic work and innovations of Scott Doughman, Ph.D., Lipid Biochemist and a former National Institutes of Health funded omega-3 researcher, previously also an American Heart Association fellow with over 12 years of lipid research experience. Since 2007, the company has rapidly grown with a focus on high triglycerides and their Omega-3 DHA Therapy™ for results oriented omega-3 dosages. The product stability, ecological sustainability, vegan and Kosher registrations and research behind Pure One™, each lend qualifications that provide value added advantages. The Pure One™ Brand and Formula are available for licensing from Source-Omega, LLC under their field of use and US patent application number 12/727,006 filed with the US Trademark and Patent Office, March 18th, 2010.
For more information please visit
www.source-omega.com
.
###
Contact
Source-Omega, LLC
Scott D. Doughman, PhD
919-360-5275
www.source-omega.com
52 Norwood Rd
Chapel Hill, NC 27516
USA

Contact