Bode Ososami Releases New Christian Book: "The Majesty of God"
The book - Majesty of God, captures the awesomeness and often forgotten grandeur that belongs to God. In the frenzy of gift purchases and preparations for the holidays, we may want to pause to consider that someone will benefit from a different view of the God who from His majestic throne in heaven came to earth as a lamb. Why is His glory the greatest thing we can ever hope to encounter?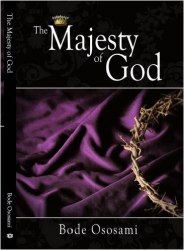 Lagos, Nigeria, December 12, 2010 --(
PR.com
)-- Bode Ososami, a Pastor and Author has just released his 3rd book this month entitled – The Majesty of God. The book presents an uncommon perspective that portrays the glory of God in a Majestic manner to bring a fresh radiance to readers.
Why did he write this book? Bode says "An elderly Christian who had read my other books commented that not enough is written to contemporary audiences about God and many perhaps younger readers are yet to appreciate His true indescribable awesomeness and majesty. Many need to be reminded of His almightiness seen in creation and the vastness of galaxies discovered and undiscovered which are merely drops in His Ocean of existence. There is so much to say about God yet we would rather spend time discovering ourselves, talking about our needs and issues. We forget so easily His greatness and sometimes misrepresent God as the doting old nice wise man high up somewhere – weary, exhausted and increasingly outwitted by the modern mind. A wrong perception of God creates serious issues and is at the root of vulnerability to far reaching deceptions. The most vital area of mind-renewal must therefore be in our conception of God - for indeed a small God is a small believer. Similarly the sight of a majestic God is already in itself a great deliverance. The recession is indeed an opportunity to rethink our thoughts about God and repent of previous idolatry."
The holiday season is usually a time when our minds are diverted to the many blessings God has provided and not as much to the God who has so blessed us. This book can be a gift to help someone refocus on God and appreciate Him for His attributes and not just for what we have received or yet to receive from Him. Bode has added a study guide to allow this book to be used easily for group discussions. In addition, there are prayer levers that can be applied for spiritual warfare to be victorious in our battles of faith.
This 184-page paperback book is available at a publisher's price of $11.16 and recommended for friends and family to discover afresh that God is indeed sovereign and majestic in all His attributes and worthy of worship. Learn more about The Majesty of God at http://www.authorhouse.com/Bookstore/BookDetail.aspx?BookId=SKU-000436060 or at the online bookshop www.authorhouse.com.
About Bode Ososami
Bode Ososami has pastored and faithfully declared the gospel of Christ at the Redeemed Christian Church God (RCCG), Lagos, Nigeria for ten years. Recently he has published 2 books – Worship in Spirit and in Truth and Wealth out of Ashes. Wealth out of Ashes was recently recognised for a finalist award by USA BookNews (2009 National Awards) in the Christian Inspiration Category. Bode is married to Bimbo Ososami and they have three sons Adedolapo, Tosin and Mayowa. His labour to comfort and feed the people of Christ has resulted in a copious amount of articles and posted materials now available and updated regularly at www.recessionproofchristianlife.com and The Christian Post Blog. Bode hosted a TV Bible study which aired on (ACBN) African Christian Broadcasting Network at 7.00hrs GMT Sunday. His theological background is from The Redeemed Christian Bible College & Schools and the Redeemed Christian Church of God - School of Disciples. He has a Bsc in Chemical Engineering and is also a Chartered (certified) Accountant. He retired several years ago to be fully in ministry after over 20yrs experience as Director in a leading global management consultancy.
###
Contact
Bode Ososami
Olabode Ososami
+2348022951103
http://recessionproofchristianlife.com/

Contact