Ambassador for Good Behavior Takes to the Skies, Let's Go Chipper!™ "Get Ready to Fly" Kit Prepares Kids for Holiday Travel
The Let's Go Chipper "Get Ready to Fly Kit" prepares kids for holiday travel and helps children earn their wings while reducing the stress of flying. Holiday gift set includes story and activity book, travel check list for kids, crayons, plush pillow backpack, reusable tote, plus bonus award-winning DVD with purchase.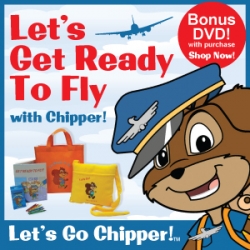 Marin, CA, December 08, 2010 --(
PR.com
)-- IAGmedia Inc. helps parents eliminate the stress of traveling with kids this holiday season with its Let's Go Chipper!™, "
Get Ready to Fly
" kit. From what to pack, to check-in, boarding, flying and landing, Get Ready to Fly is a story & activity book with crayons nestled into a plush, self-adjustable Pillow backpack that helps prepare kids for flying before mom or dad even packs a bag. The entire package is delivered in a reusable tote bag so kids have a character to help guide the way and mom or dad has a bag for extras to help keep everyone on track.
"Traveling is stressful enough these days but young kids, and first time fliers, are even more vulnerable to the anxiety associated with new sounds, processes, and unfamiliar faces when navigating an airport or sitting on a plane – we want to prepare so parents don't have to appease along the way," says company founder Stephanie Rach. "Chipper is a character kids can relate to so we utilize the stories and activities to playfully teach kids good behavior in a variety of experiences."
Chipper offers simple yet effective tips along with the kit this holiday season to help everyone earn their wings. Flying with kids tips include:
When to fly – midweek and Saturdays are the most economical days and are generally lighter travel days
Photo I.D. – A birth certificate, photo of child with name and a family picture in the event your child is lost or the request is made at the airport – you are ready
Snacks and Entertainment – Once at the gate, look out the window and talk about the flight but have books, coloring materials, and foods that will comfort your child to something extra special as a reward for being a good traveler. Lollipops for young children help with the landing. Chipper calls them "pressure pops."
"Chipper's plush Pillow "back" Pack is our answer to mom carrying the pillow, stuffed animal and stuffed back pack," says Ms. Rach. "It's lightweight, soft, and features ties with safety snaps so it's three items in one that mom or dad won't have to carry because it rests unnoticed on the child's back all the way through the check-in process."
The Get Ready to Fly set is available at
Let's Go Chipper
and also as a video book in the Let's Go Chipper app available on
iTunes
.
Let's Go Chipper!™ products are created and manufactured by It's All Good media Inc. a family-lifestyle media and marketing services company delivering content, products and programs that instill positive life skills and inspire respect for self, family, and contribution to community. The Let's Go Chipper series, "Into the Great Outdoors" is a "Hot Product" iParenting and Disney Family Fun winner. To learn more, please call 415-271-9603.
###
Contact
Let's Go Chipper
Stephanie Rach
415-927-2398
www.letsgochipper.com

Contact
Multimedia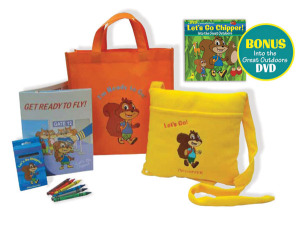 Includes story and activity book, crayons, plush pillow backpack and reusable tote plus bonus award-winning children's DVD. Holiday Price $14.98