T2P Releases "Mitigating Risk in IT Outsourcing," a Practical Framework for Control and Certainty in Externalized Service Initiatives
Hype-free white paper provides lessons learned from more than 40 years in IT management, including checklists for effective service transition and effective responses to problematic projects.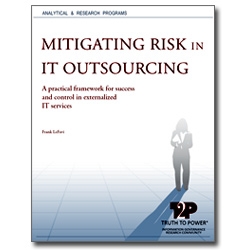 Seattle, WA, December 15, 2010 --(
PR.com
)-- The Truth to Power (T2P) information governance research community today released a new community-contributed white paper by author Frank LeFavi. Entitled "Mitigating Risk in IT Outsourcing" the new guidance details practical, concrete steps for increasing the success of third-party service transitions.
"Mitigating Risk in IT Outsourcing," reflects in-field experience and expert insight, based on more than 40 years of the author's work in IT and operational leadership. Written in no-nonsense terms for IT auditors, IT managers, and corporate procurement managers, the paper describes a comprehensive, proactive approach to outsourcing-risk management. Coverage includes:
-- Key considerations for proactive risk identification and mitigation, including planning, documentation, and preparation for employee and customer reaction
-- Five key requirements for effective service transition, encompassing more than 80 checklist steps for project planning, supplier evaluation, and administrative and legal control; as well as a master list of predictable risks
-- Four approaches to managing problematic service engagements, from traditional, team-based strategies to a full roll-back of the service relationship
According to the paper's author, Frank LeFavi, "Most companies decide to outsource in order to reduce IT costs, but the value equation isn't as simple as headcount or cost of wages. When you factor in oversight requirements, administrative overhead, and service impact, outsourcing can represent, minimally, a 150 to 200 percent increase in operating cost. That's a common, but avoidable, outcome. The sole purpose of this paper is to give companies a solid framework for more successful outsourcing engagements."
T2P founder Cass Brewer, explains why "Mitigating Risk in IT Outsourcing" is important for IT management right now: "Especially in tough economic times, companies look to outsourcing as a way to reduce operating costs. It's never more important that those strategies don't backfire. Still, the hard truth is that, between complex systems and complex communications, many third-party projects incur more risk than opportunity. Frank's paper provides the fundamental tools IT managers need to shift that balance. His decision to share his enormous experience and insight in this paper is not only a great contribution to the discipline of IT sourcing, it is a very timely example of how IT professionals should be helping each other to thrive in challenging circumstances."
"Mitigating Risk in IT Outsourcing: A practical framework for control and certainty in technology service engagements" is a vendor-neutral publication written by a T2P community member.
The publication is available for free download at
http://www.t2pa.com/outsourcing-success
--- About the Author
Frank LeFavi's IT experience spans more than 40 years in the service of companies including Chase Manhattan Bank, Citicorp, FiServ, GE, and MCI. He has designed, implemented, managed, and audited some of the largest networks in the financial services industry. Frank has presented to the Detroit branch of ISACA on the identification and mitigation of risk in infrastructure services and is a recognized subject matter expert who has been interviewed by Newsweek, published in Telecommunications, Data Communications, and Computer Decisions magazines, and testified before the US Office of Technology Assessment.
--- Open Research and Information Governance Resources
"Mitigating Risk in IT Outsourcing" embodies Truth to Power's mission to build a common platform of practical knowledge, research, tools, and advice for information governance, risk management, and compliance.
By approaching practices such as compliance, data management, e-discovery, IT project management, and performance management in terms of process and information governance, T2P helps organizational leaders find commonalities and optimization opportunities that span conventional business practices and operational roles.
Other Truth to Power resources include:
Control and Risk Calculator: an interactive tool for assessing the effectiveness of internal controls and prioritizing IT investments.
IT Policy Templates Wiki: an open, collaborative repository of customizable policies for information security, data management, change management, and more.
T2P Rules & Standards Hub: a knowledgebase of more than 100 guidance documents information security, records management, IT auditing, IT investment management, and more
Filtered News Feeds: Categorized news updates, vetted and filtered for relevance and utility from hundreds of global news sources.
All T2P resources are free, many are collaborative, and each is vetted against hype and bias.
--- About the Truth to Power Information Governance Research Community
Founded on the principles of knowledge, utility, credibility, and community, Truth to Power LLC provides critical information resources for humans and machines. T2P's guiding principles are: 1) To provide genuinely useful, unbiased business research and resources that help companies reduce operational costs and uncover capital opportunities; 2) To reveal alignment between siloed business disciplines, organizations, frameworks, and practices; and 3) To enable and encourage community members to share practical experience and expertise towards a common good. Membership and resources are free. Be a part of Truth to Power at http://www.t2pa.com/.
###
Contact
Truth to Power, LLC
Cass Brewer
1-(206)-407-3022
www.t2pa.com

Contact