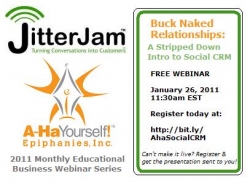 Gilford, NH, January 20, 2011 --(
PR.com
)-- JitterJam, a leader in Social CRM software, and Epiphanies, Inc., a social marketing and success strategies team, jointly announced a new collaborative partnership for 2011, to create a free monthly series of educational webinars for entrepreneurs, businesses, and organizations determined to evolve and prosper in this dynamic Social Age.
"As businesses and brands become more focused on social marketing, their understanding of the rules and strategies of social engagement will be critical to their success," says Ric Pratte, CEO of JitterJam. "We're thrilled to be combining know-how, passion, and might with Epiphanies, Inc. to help companies and industry leaders seize opportunities, build their brands, and engage with their ideal audiences in meaningful and profitable ways."
The free webinar series begins on January 26, 2011 at 11:30am EST with "Buck Naked Relationships: A Stripped Down Intro to Social CRM." Allen Voivod, co-owner of Epiphanies, Inc., will explore the new world of Social Customer Relationship Management (SCRM), including: How social media radically changes the whole CRM game; where the money is and how Social CRM relates to ROI; what's necessary to monitor, listen, engage, and manage content in the Social CRM space; and what action steps to take to embrace and implement Social CRM.
"JitterJam is really ahead of the curve in what it can do for brands, agencies and organizations in the social space," says Voivod. "Our company is in the business of helping our clients see what's possible and making it happen. Together, our goal is to give people the information and insight they need to take confident, progressive action."
"It's all about harnessing the power of technology, strategic ingenuity, and an ever-connected humanity," adds Lani Voivod, Allen's wife and business partner. "JitterJam's platform celebrates this and so much more, and we can't wait to share these big ideas and their practical applications with forward-thinking professionals ready to dive in, thrive, and have fun along the way."
For more details, and to sign up for the free "Buck Naked Relationships: A Stripped Down Intro to Social CRM" webinar, go to http://bit.ly/AhaSocialCRM.
About JitterJam
JitterJam is a web-based Social CRM system that helps businesses and brands Turn Conversations into Customers™. JitterJam combines social media monitoring, an intelligent contact database and a multi-channel digital marketing platform into a single, integrated system. Consumer-facing businesses, brands, agencies and consultants are using JitterJam to capture relevant conversations on the social web and turn them into lasting, trusted customer relationships with new opportunities for revenue growth. Founded in 2008, JitterJam is headquartered in Bedford, NH. For more information, visit http://www.jitterjam.com.
About Epiphanies, Inc.
Hailed as "visionary" and "two of the most creative thinkers in the industry" by the NH Division of Economic Development, Lani and Allen Voivod share powerful social marketing & success strategies through speaking, workshops, and their own online channels. Their company, Epiphanies, Inc., trains teams, crafts strategies, and serves as long-term success partners for bold brands, innovative businesses, and mission-driven organizations. To find out how they can help your business boost visibility, community, competitive edge, memberships, and profits, join their Facebook community at http://facebook.com/AhaYourself and introduce yourself, jump into the conversation, or share a biz insight on their FB Wall.
###