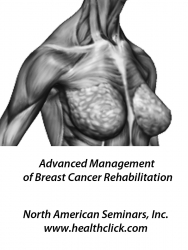 Franklin, TN, January 26, 2011 --(
PR.com
)-- This two-day advanced seminar is designed to expand and advance current clinical knowledge by providing more in depth clinical information needed to problem solve through a complex variety of breast cancer diagnoses. Complex diagnoses include patients with aggressive forms of breast cancer, patients with metastatic breast cancer such as bone and lung metastases, patients with associated co-morbidities such as auto-immune diseases, diabetes, CHF, patients with differential diagnoses such as superior vena cava syndrome, sarcomas, etc., and patients with treatment complications such as seromas, hematomas, infections, open wounds, axillary web syndrome, and mondors syndrome. Centered on systems management, a series of advanced, synchronized manual therapy treatment techniques are taught in the lab sessions. These advanced clinical treatment techniques will allow experienced therapists to build on their current expertise by being inclusive of all the major systems involved in the medical treatment of breast cancer patients, namely the musculo-skeletal system, the nervous system, the vascular system, the lymphatic system, and the endocrine system. Careful study of how each of these systems are affected in the breast cancer population will enable clinicians to apply advanced treatment concepts and integrative skills to effectively and successfully treat a multitude of complex patient scenarios that go beyond the routine post surgery and post radiation management of this population. Additionally, the integrated skills taught in the seminar will add leverage to current treatment protocols, optimize the functioning of patients, and bring about improved sustainable results. Upon completion of the course, clinicians will be able to design specific exercise protocols and use integrated systems management techniques in the advanced treatment of breast cancer patients with surgical complications, severe side effects of radiation, side effects of chemotherapy, and side effects of targeted hormone therapies. The information presented in the course will enhance therapists' ability to develop a continuum of care, lead a multi-disciplined approach, and effectively market new concepts in the management of patients with breast cancer to the medical community. The course presents evidence-based material both in the medical management of patients with breast cancer and in the rehabilitative therapy management of patients with breast cancer. The information obtained in this course can be immediately applied in the clinic to achieve sustainable, functional outcomes in patients with breast cancer.
The objectives of this
physical therapy continuing education course
are:
- Understand the anatomy of breast cancer cells, their functional capabilities, and how modern medicine is responding in its design to treat breast cancer effectively.
- Expand clinical knowledge about differential diagnoses, treatment side effects, and physical sequelea of chemotherapy, radiation therapy, and targeted hormone therapies.
- Advance understanding of the biology and physiology of the acute trauma that occurs to the lymphatic system after surgery and radiation therapy, and how this affects normal healing processes in the body.
- Understand the difference between treating lymphedema as a condition, and the advanced concepts of treating acute trauma of the lymphatic system as it relates to other body systems in the healing processes of surgery, radiation, and chemotherapy.
- Advance and integrate manual lymphatic drainage skills with orthopedic manual therapy skills to include system management of the musculo-skeletal system, the nervous system, the vascular system, the lymphatic system, and the endocrine system during and post breast cancer treatment.
- Understand complex co-morbidities and adverse treatment complications of breast cancer, how they affect the healing capacity of patients, and how treatment can be structured to minimize their effect.
- Identify clearly the specific clinical goals of specialized manual therapy skills and targeted exercise protocols for patients undergoing advanced forms of breast surgery, new chemotherapy treatments, and/or targeted radiation therapy so as to achieve optimal function, as well as sustainable treatment results.
- Have increased knowledge about advances in breast cancer diagnoses, advances in breast cancer management, and advances in breast cancer research
- Gain and advance leadership skills in the continuum of care and multi-disciplined approach to the management of patients with breast cancer.
This course will be presented at the following locations:
Jan 29, 2011 - Jan 30, 11: Multicare Medical Center, Tacoma, WA
Feb 12, 2011 - Feb 13, 11: Summerlin Hospital, Las Vegas, NV
Feb 26, 2011 - Feb 27, 11: Methodist Dallas Medical Center, Dallas, TX
Mar 26, 2011 - Mar 27, 11: San Ramon Regional Medical Center, San Ramon, CA
Aug 20, 2011 - Aug 21, 11: Legacy Emanuel Hospital, Portland, OR
Aug 27, 2011 - Aug 28, 11: St. Anthony's Medical Center, St. Louis, MO
Oct 01, 2011 - Oct 02, 11: Elliott Hospital, Manchester, NH
Nov 05, 2011 - Nov 06, 11: St. Agnes, Hospital Baltimore, MD
For more information visit
www.healthclick.com
###