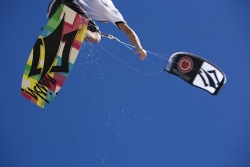 Wilton, CT, February 08, 2011 --(
PR.com
)-- GlobalEntry, Inc. d/b/a RebootizerUSA has signed an agreement to become the exclusive detox and wellness drink sponsor of the Billabong BVI Kite Jam 2011, February 26 – March 4. BVI Kite Jam is the first kiteboarding contest ever held in the magnificent British Virgin Islands, open to amateurs, professionals and spectators. Now in its second year, the week-long event was conceived by Charlie Smith and Sir Richard Branson after a 20-mile kite crossing from Necker Island to Anegada.
Rebootizer® is a revolutionary powerful antioxidant drink made from a proprietary blend of natural detoxifying fruit and plant extracts. It is contained in a unique and innovative 2 oz., 6 x 4.25-inch flat Mix-Pak® pouch that has separate compartments for the water and powder to enhance bio-availability.
With a palatable taste and aimed to be consumed regularly as a detox regimen, Rebootizer is so effective that when taken before bed after food and drink indulgences, consumers get the immediate reward of preventing the morning after symptoms of the common hangover. Recognized as one of the best innovations in beverage dietary supplements, Rebootizer has received several prestigious international awards: the Trends & Innovations Selection at SIAL in Paris, 2008; Frontier Magazine Buyers' Forum 2010 Winner for Best New Product; Columbia's Axioma Group "Great Idea 2011" award for most innovative functional drink. Most recently, Rebootizer was awarded four stars by Beverage Spectrum Magazine/BevNet.com, the recognized authority on the beverage industry.
"Rebootizer is extremely proud and excited to support BVI Kite Jam," states Rebootizer USA CEO Catherine Brandt. "We will be there throughout the week with our participating international kiteboarding champion, Davey Blair, as well as our sponsored Reggae band, the Dubplates, to ensure full participation in the kite contests and Reggae concerts at the opening and closing parties. BVI Kite Jam will provide great opportunities for exposure within the beverage industry and among young adult consumers in US and international markets. A post-event major communication campaign with elaborate video footage will air widely online in social media. Longer episodes will be integrated into a new reality show named "Chuck and Chalice" to appear on numerous online and TV outlets."
Rebootizer is a wellness lifestyle product perfectly suited to the performance, image and sustained nightlife of kiteboarding athletes and show business performers. It allows performance and fun to co-exist by providing the natural nutrients required to help support and enhance the body's regular detox and digestive functions. A body cleansed of toxins after physical exertion and/or night indulgences performs better both on the short and long terms. "Supporting and promoting this event, the sport and its athletes, as well as the health/wellness benefits of Rebootizer, fits perfectly with our company's direction," states Ms. Brandt.
"We are delighted to have a dynamic brand and company like Rebootizer partner with the Billabong BVI Kite Jam," said Event Director Scotty Wilson. Health and wellness are critical in daily life, especially in a sport like kiteboarding. "We hope that this will be the beginning of a long collaboration."
About GlobalEntry, Inc. – Rebootizer USA - Rebootizer Group
GlobalEntry, Inc. d/b/a Rebootizer USA located in Wilton, CT is the importer and exclusive distributor of Europe's Rebootizer Group products in the USA. Rebootizer USA designs and implements the marketing and distribution strategies in the USA. Launched in the US during the 4th quarter of 2010, Rebootizer is available online and already on the shelves of over 200 select stores throughout California, Arkansas, New York and New England.
Rebootizer Group is a public company traded on the European stock market which focuses on natural health and wellness, and is specialized in the discovery and marketing of natural functional drinks created to enhance the body's natural functions. Having created a new functional category - the daily "detox" segment - Rebootizer Group has established a dominant position in the market with Rebootizer. The cutting edge product, environmentally friendly packaging and fashionable image is delivered through an innovative and quirky 'infusion' pouch, which allows optimal bio-availability of its ingredients to support and enhance the body's natural detoxifying process.
For more information, please visit www.rebootizerusa.com or www.facebook.com/rebootizerusa
About BVI Kite Jam2011
BVI Kite Jam, February 26 – March 4, 2011, is the first kiteboarding event ever held in the British Virgin Islands, presented this year by Billabong. The unique, week-long event is flotilla-based to allow access to the very best kiting spots in the islands. Packed with Freestyle, Sliders, Big Air, Wave Riding and long distance racing, BVI Kite Jam takes place in some of the windiest and most spectacular locations in the world such as North Sound, Sir Richard Branson's Necker Island, Anegada and Eustatia Sound. For more information or to register please visit www.bvikitejam.com
###
International champion kiteboarder Davey Blair
Contact:
Catherine Brandt, CEO
Rebootizer USA
cbrandt@rebootizerusa.com
203-665-0333