Dallas Plastic Surgeon and Fat Grafting Expert Featured in Plastic Surgery Practice Magazine
Dr. Samuel Lam, a plastic surgeon specializing in fat grafting in Dallas, Texas, contributes his views on the benefits and drawbacks of facial fat transfer and related stem cell therapy in magazine's January edition.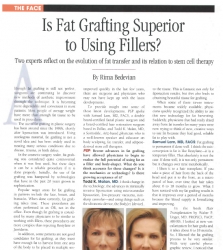 Dallas, TX, February 11, 2011 --(
PR.com
)-- Dr. Samuel Lam, M.D., F.A.C.S., a double board certified facial plastic surgeon in Dallas, Texas, was recently featured in an article in the January 2011 edition of Plastic Surgery Practice magazine titled, "Is Fat Grafting Superior To Using Fillers?" The Texas fat grafting surgeon was interviewed for the article due to his expertise related to fat grafting and facial fat transfer techniques, and was also asked to share his views on stem cell therapy as it applies to fat grafting procedures.
Dr. Lam was asked a number of questions within the article related to whether he considers fat grafting an acceptable alternative to using fillers and what he believes the future of fat grafting techniques, and their use along with stem cell therapy, will be. The Dallas fat grafting surgeon equated fat grafting to using soft fillers, but noted that unlike other temporary fillers such as Restylane, the results are permanent. He compared fat grafting techniques to hair transplantation, another area of Dr. Lam's expertise, and explained that in a similar fashion to a transplanted hair graft, fat grafts change metabolically over time as the blood supply to the graft improves.
"Care needs to be taken when using fat grafting or fat transfer techniques for certain applications," explains Dr. Lam. "Fat grafting does not work in the same way as other fillers and is not a good option for deep creases or areas like lips. This is due to the fact that fat grafting is too unpredictable and can change over time. Many physicians see issues with facial fat grafting due to overfilling or underfilling or because they are not taking into consideration the unique nature of fat grafts compared to fillers and how they can change as changes in blood supply affect the grafts. They are also utilizing the technique in areas that are just too difficult to achieve desired results."
Primarily due to the reasons he stated, the board certified Texas plastic surgeon uses fat grafting to manage facial contours, but still relies on fillers for deep lines and wrinkles and tricky areas such as those around the lips. Dr. Lam carefully chooses which patients he believes will benefit from fat grafting and steers others away from the procedure. "I think that some physicians will see problems with patients down the road that have received fat grafting because they just don't fully understand how the fat grafts can metabolically change over time and therefore how the patient's appearance will be affected," explains the fat grafting specialist.
When asked about his views of stem cell therapy in conjunction with fat grafting, Dr. Lam remains conservative in his approach. "Since we don't yet know the effects that stem cell injections will have on patients down the road, I am more comfortable sticking to procedures that have been around awhile. I am not yet convinced that enhancements in the way skin looks following fat grafting are due to the introduction of stem cells, but rather that they are from the changing way that natural light reflects off the skin."
Dr. Samuel Lam is a double board-certified facial plastic surgeon in Dallas, Texas. His practice, Lam Facial Plastics, specializes in fat grafting, facial rejuvenation, brow and facelifts, chin and cheek augmentation, lip reduction and augmentation, hair restoration, scar correction, mole removal and fillers. For more information about the Dallas fat grafting surgeon and his techniques, visit his website at www.lamfacialplastics.com.
Contact
Lam Facial Plastics
Dr Samuel Lam
1-972-312-8188
http://www.lamfacialplastics.com

Contact