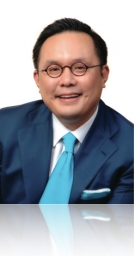 Dr. Samuel Lam, Hair Transplant Surgeon & Director
Dallas Hair Transplant Surgeon and recognized expert in all types of hair restoration including Male Hair Transplant, Female Hair Transplant, Female Hairline Lowering, Corrective Hair Transplant, Eyebrow Hair Transplants, and Ethnic Hair Transplants including Asian Hair, African Hair, Hispanic Hair and Middle Eastern Hair.
Dr. Lam has published two books on hair transplant as well as numerous scientific articles. He lectures internationally on his unique hair transplant technique & has been featured by the International Society of Hair Restoration Surgery as "Hair Surgeon of the Month". One of only about a hundred board-certified Hair Transplant Surgeons in the world, certified by the American & International Board of Hair Restoration Surgery.
Dr. Samuel Lam's Board Certifications:
- American Board of Hair Restoration Surgery
- American Board of Facial Plastic & Reconstructive Surgery
- American Board of Head & Neck Surgery-Otolaryngology
Dr. Samuel Lam's Fellow Memberships:
- American Academy of Facial Plastic & Reconstructive Surgery (AAFPRS)
- American College of Surgeons (ACS)
Dr. Samuel Lam's Professional Memberships:
- International Society of Hair Restoration Surgeons (ISHRS)
- American Academy of Facial Plastic & Reconstructive Surgery (AAFPRS)
- Texas Medical Association (TMA)
- Dallas County Medical Society (DCMS)
- Entrepreneurial Organization (EO)