Pro Riders & Kiteboarding Legends Attend Billabong BVI Kite Jam 2011
A Kiteboarding hall of fame sign up for Billabong BVI Kite Jam 2011, an event conceived by Charlie Smith and Sir Richard Branson after a 20 mile kite crossing from Necker Island to Anegada.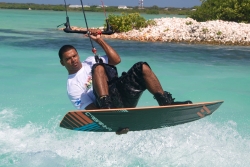 Road Town, Tortola, Virgin Islands, British, February 14, 2011 --(
PR.com
)-- Over forty amateur riders, the best in the world, multiple world record holders and kiteboarding pioneers will descend on the British Virgin Islands later this month for the Billabong BVI Kite Jam 2011.
Returning from last year's inaugural event are nine time world champion Kristin Boese (who was nominated for the Rolex ISAF World Sailor of the Year award in 2010), Davey Blair, Jeremy Lund, the Caribbean's very own Andre Philip of Antigua, Juan Carlos Morales of Puerto Rico, Susi Mai of the Dominican Republic and the Virgin Islands' and Billabong's own Madison and Charlotte van Hueurck.
"After a fantastic BVI Kite Jam event last year, I cannot wait for this year's event to start! Spending the event onboard the comfy Sunsail Yachts and discovering new places of the beautiful British Virgin Islands every day is going to be another amazing experience, but the best thing about it is the wonderful people that are going to join us and that all have the same passion - find the best kiteboarding conditions and have fun!" Kristin Boese.
2011 Kite Jam rookies include Dutch Champion Youri Zoon, Kris Kinn, Sander Lenten and another five of the top riders in the world.
Billabong BVI Kite Jam is also pleased to welcome kiteboarding pioneers Pete Cabrinha of Cabrinha Kites, Stephen Schank of Aggression Kiteboards and Shannon Best of BEST Kiteboarding.
About:
Billabong BVI Kite Jam is the first kiteboarding event ever held in the British Virgin Islands. Open to amateurs, professionals and spectators, and now in its second year, the event was conceived by Charlie Smith and Sir Richard Branson after a 20 mile kite crossing from Necker Island to Anegada.
Starting February 26th and running through March 4th, 2011, the week long event is packed with Freestyle, Sliders, Big Air, Wave Riding and Long Distance Racing. Pros and enthusiasts alike enjoy some of the windiest and most spectacular locations in the world such as North Sound, Sir Richard Branson's Necker Island, Anegada and Eustatia Sound.
Contact:
press@bvikitejam.com
Images available from: erin@bvikitejam.com
www.bvikitejam.com
http://www.youtube.com/bvikitejam
High Profile Sponsors and Partners Include:
Finlandia Vodka, Cape Air, Cabrinha Kites, Sunsail, Sir Richard Bransons's Necker Island, Digicel, Bitter End Yacht Club, OBMI, Aggression Kiteboards, Keta Films, MediaPunch, The BVI Tourist Board, Road Town Wholesale, Crhristine Brook, Kestrel Shipping, Laurel Eastman Kiteboarding, JTV, Monster Energy Drink, Fiji Water, Fat Virgin Café, Green Technology, Rebootizer, Kiteboarding Magazine, DaKine Heineken, Secrets Band and Sailors for the Sea who have awarded the event with a Clean Regatta Certification. 2011 Charities supported by Billabong BVI Kite Jam are KATS – Kids And The Seas BVI, VISAR, Green VI and Kiteboarding for Communities.
###
Contact
Kite Jam (BVI) Limited
Abby O'Neal
+1 284 340 1836
www.bvikitejam.com

Contact