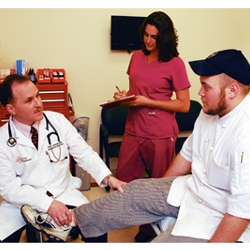 West Palm Beach, FL, February 27, 2011 --(
PR.com
)--
MD Now Medical Centers
, Inc. the largest provider of Urgent Care, Corporate, Employer and Occupational Healthcare services, including Workers Comp Injury care, in Palm Beach County, Florida, is proud to announce that they are continuing to expand medical facilities and grow healthcare services.
MD Now has recently added Physical Therapy services to its West Palm Beach, Royal Palm Beach and Boynton Beach medical centers. MD Now has a team of certified Physical Therapists working alongside Board Certified Doctors, which improves overall care and allows employees to get back to working full duty faster because of this coordinated approach to workers comp injury management.
"Providing physical therapy at MD Now Medical Centers has improved patient care and accelerated recovery time, by being able to monitor and coordinate our patients overall medical care during the entire course of treatment," says Dr Peter Lamelas, MD, MBA, FACEP, Medical Director and CEO. Evaluations and comprehensive treatment provided by Board Certified Doctors working together as a team with certified physical therapists has greatly enhanced injured employees' medical care and outcomes.
Unlike other medical clinics where there is little to no interaction with patients after a referral is made to an "outside" physical therapy clinic or service, their comprehensive physical therapy program allows MD Now providers to monitor the patient's progress, stay in touch with their therapists and remain in complete control of their recovery, says Dr Lamelas. While outside referrals to physical therapy are often delayed and cumbersome to both patients and their employers, the new streamlined physical therapy program is faster for patients, more convenient and cost effective for the employers. The result is reduced downtime and a speedier return to full duty in the workplace.
Having physical therapy under the same roof as the urgent care and occupational medicine is a smart idea because it allows MD Now's medical providers to review digital x-rays, discuss patient progress and directly consult one another, thereby managing patient care in a timely and coordinated fashion. MD Now employs full time Patient Care Coordinators assigned to coordinate the entire case and work to facilitate communications between physicians, physical therapists and the patient's insurance adjuster, case manager or company representatives - which ultimately gets the injuired employee transitioned and back to full duty and at work much quicker.
All six (6)
MD Now Urgent Care
Centers are "state of the art," urgent care and occupational healthcare centers and have a fully computerized digital radiographic (X-Ray) suites as well as in office Laboratory, blood test, drug screening, EKG's, Ultrasound, Doppler, Echocardiogram capability, as well as fully computerized electronic medical records. As always, MD Now continues to provide the highest level of "urgent care" walk-in medical and occupational healthcare services, offering a beautiful, comfortable and clean environment, as well as vastly superior customer service. MD Now, facilities are open everyday, 8 am - 8 pm, 7 days a week, 365 days a year including evenings, weekends and all holidays. All major insurance is accepted but not required. Always with a Doctor available and "On-Site" at all times. Board Certified Physicians, Nurse Practitioners, Physicians Assistants and now certified Physical Therapists on site at select facilities.
"Our patients loyalty and our high level of patient satisfaction has created a growing demand for our trademarked 'MD Now' brand of comprehensive Urgent Care services. Even thought there is a lot of fierce competition in our marketplace, we have discovered that we are still continuing to treat an ever increasing number of patients referred to us through 'word of mouth' by friends and family that have been here previously," says Dr Lamelas.
Because of its continued success, MD Now Medical Centers has secured capital for future local expansion and is in the process of further growth in the Palm Beach County area, with plans to open multiple new comprehensive medical facilities this year.
With the slogan of, "Fast, Affordable and Professional Urgent Care," and now with a Physical Therapy program and certain diagnostic imaging services, MD Now continues to be the leader in out-patient urgent medical care, corporate, occupational healthcare and workers comp medical services in all of South Florida. Visit MD Now Urgent Care, online @ http://www.MyMDNow.com.
###