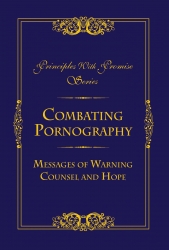 Salt Lake City, UT, March 06, 2011 --(
PR.com
)-- Celestine Publishing (
www.celestingpublishing.com
) announced publication of its latest topical guide, Combating Pornography: Messages of Warning, Counsel, and Hope. This volume catalogues more than 1,000 principles from numerous articles previously published by The Church of Jesus Christ of Latter-day Saints on the topic of pornography and other addictions.
Vinny DiGirolamo, author of the Principles with Promise series, commented on this new edition in the series, "There have been a number of addresses delivered over the past forty years that have warned us about the destructive nature of different addictions. Pornography has been dubbed as being one of the worst soul destroying evils and is compared to a nuclear holocaust affecting the lives of everyone so entangled. This book captures the essence of what has been taught on the subject and each principle has been cross referenced under hundreds of different topics."
Combating Pornography was developed to serve as a vital resource for Latter-day Saint leaders, parents, families, and extended community of clinical psychologists, addiction counselors, and recovery program facilitators.
DiGirolamo continued, "During the development of this edition, it becomes apparent that you cannot discuss one addictive pattern or behavioral cycle like pornography without considering similarities with other addictive behaviors like drug abuse, alcoholism, gambling, overeating, etc. The principles cataloged here also apply to other addictions and not only are the patterns of behavior similar between addictions, so are the steps for recovery-complete recovery."
The Principles with Promise series publishes a number of principle-centered topical guides that catalog principles of truth taught by Latter-day Saints and other denominations. This particular topical guide focuses on the war against pornography and is valuable to anyone involved in the fight. Its warnings are clear if we're not involved in the fight.
"Addictions are serious matters that need to be dealt with in forthright ways," DiGirolamo asserted. "Addictions have affected many of our lives in negative ways; sometimes destroying lives entirely. Some of us may have lost loved ones to addiction and witnessed the aftermath of damage to lives and liberties that can extend for generations. Nevertheless, we are also familiar with the healing that comes from reliance on Jesus Christ and His supernal sacrifice and atonement. If we choose to follow Him, we can change and find the needed hope beyond despair."
Combating Pornography speaks to this hope and change. It catalogs principles under more than a thousand different topics to suit the interest of different individuals. For example, if you are a parent, you might look under the topic, parent, to see what has been recommended that a parent should do to prevent pornography's invasion into your homes.
If you are a Bishop or Stake President, you can read specific counsel given regarding your calling over the past several decades on addiction. If you want to know about change or repentance, then seek out the principles under those key words and so forth. This handbook also restates important information related to LDS Family Services and the official church website recently created to help stem the deleterious tide and pernicious effects of pornography,
www.combatingpornography.org
.
Not only was this topical guide developed for doing research on specific topics, it is a useful resource for seeking guidance on what to do or how to address situations, or serves as a teaching aide for lessons on hundreds of topics related to pornographic addiction. DiGirolamo suggested, "When you are counseling someone or considering your options, read what has been said on the topic before you decide what to do."
Combating Pornography: Messages of Warning, Counsel, and Hope is independently published as part of the Principles with Promise series published by Celestine Publishing and may be purchased online at
www.celestinepublishing.com
. Combating Pornography is not an official publication of The Church of Jesus Christ of Latter-day Saints, however its contents are consistent with what has been published on the topic over the last several decades.
###