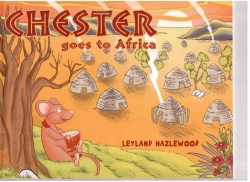 Johannesburg, South Africa, March 15, 2011 --(
PR.com
)-- The vuvuzelas have been silent. But wait a minute. Chester has arrived in South Africa making his own noise, winning friends with his colorful Congo drum and spreading the message of concern for the environment. Chester is a fictional character in "Chester goes to Africa" whose habitat was destroyed to build a busy polluted city. He comes to South Africa in search of wide open spaces, lakes and mountains.
"You must believe in fantasy," says Leyland Hazlewood the former Consul of Guyana in South Africa. "If you can relate to 'Mickey Mouse' stories and movies like 'Ratatouille' and 'Madagascar', you will enjoy Chester," says Hazlewood who invented the Chester character. Hazlewood and is also the producer of two editions of "
The Green Toys Directory
," a comprehensive guide to green and eco-friendly toys and games. has been working on the story about Chester for twelve years. He is concerned about practical ways in which individuals may become personally involved in green and eco-friendly actions. Chester is an invention to communicate sensitivity towards the environment and Climate Change to children in a simple, exciting and fun way.
Hazlewood, CEO of an international management consulting firm has traveled extensively in Africa, Asia, Europe, the Middle East and Latin America and the Caribbean on business assignments for more than thirty years. As a trained economist working in developing countries, he was intrigued by the concepts of applying appropriate and intermediate technological solutions to sustainable human development challenges. He has been involved with reforestation and environmental restoration projects in Algeria and Mauritania, solid waste management projects in the United States and was the economist on the consulting team that recommended the establishment and initial funding for ANGAP (National Association for the Management of Protected Areas in Madagascar) that safeguards the lemurs, ecosystems and biodiversity while enabling local communities to benefit directly from conservation.
"I lived for nine years in South Africa, served as a diplomat here and was a delegate to the United Nations Conference on Sustainable Development, in Johannesburg, South Africa in 2002. I wanted to draw on all of these experiences to tell the story of Chester. It is a beautifully illustrated book with illustrations that South Africans will recognize". Of course Chester is a field mouse who is a displaced and discontented with life in one of the cities of the industrialized north. He comes to Africa in his quest for idyllic open spaces, grasslands, lakes, mountains and encounters many adventures with wild animals.
"This story originated as a series if communications from South Africa to my grandchildren in the United States. So we have a 'green' and eco-friendly mouse that plays a drum. This was before the vuvuzelas," says Hazlewood of his book "
Chester Goes to Africa
" that is being made available in South African bookstores/
###