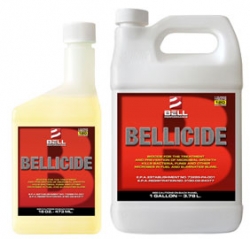 Orlando, FL, March 24, 2011 --(
PR.com
)-- Bell Performance, the world's first fuel additives manufacturer announces the release of BELLICIDE, designed to solve the microbial problems in fuel storage systems. Bell Performance BELLICIDE: eliminates and prevents the growth of bacteria, fungus and algae, and kills bacteria for up to four weeks.
Glenn Williams, President of Bell Performance said, "Bell BELLICIDE is the total solution for protecting all fuel storage systems. BELLICIDE was developed for the increased frequency of fuel contamination by outside influences (water, bacteria, and fungus) they now have a product that is both effective, and long lasting. BELLICIDE is designed with Marina Operators, Home Heating Oil Providers, and long hot summer months in mind. Everyone wants to protect the fuel they have, BELLICIDE is that product." Bell Performance has used the experience of the boat and fuel storage community to develop BELLICIDE.
When used in a fuel storage system BELLICIDE is formulated to:
- Eliminate the growth of bacteria
- Prevent Biodegradation
- Increase the life of stored fuels
- Activate into both fuel and water
- Be fully combustible in all fuel types
- Kill 100% of bacteria in just two hours
- Last for up to four weeks at 100% bacteria elimination
Bell Performance used an independent laboratory to test the BELLICIDE effectiveness. They studied the most common types of bacteria in fuel, Pseudomonas aeruginosa, and Cladosporium resinae. The results showed that BELLICIDE provided the best results at the minimum recommended dose after both one and four weeks. Bell Performance is releasing BELLICIDE in pre-order phase before the initial release on April 15. Contact their offices for release information in your area.
For more information on how to protect your fuel storage systems from fungus and bacteria, or have questions about the Bell Performance line of products visit www.bellperformance.com, www.wefixfuel.com or call 407-831-5021.
###