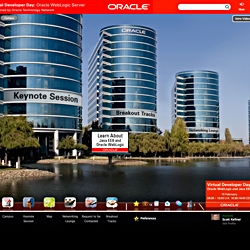 Campbell, CA, March 29, 2011 --(
PR.com
)-- Oracle announced today that it has chosen to use the 6Connex Virtual Experience Platform for a series of online events around the world. Preliminary announcements include virtual environments designed for audiences in the U.S., China and India.
"Oracle WebLogic Server is the #1 application server for developing and deploying Java EE applications. The virtual environments will provide an overview of WebLogic Server's capabilities and the key role WebLogic Server plays in Oracle's overall product strategy," said Scott Kellner, CMO at 6Connex. "We're extremely pleased to be the platform provider for such an important initiative."
The new Oracle environments will feature multiple tracks for developers to choose from. They will also provide a forum for direct interaction between Oracle subject matter experts and the developer community, plus hands-on "labs" in which Oracle customers can get direct experience on how to optimize the development process by using Oracle's suite of tools.
About 6Connex
6Connex is the pioneer of virtual experience technology marketing solutions. Our Virtual Experience Platform is online conference software that maximizes ROI through web conferences, online seminars, digital expos, virtual training and online presentations for external customers and prospects plus internal employees and partners. In addition to expanding reach and market presence via web presentations, it enables new virtual networking opportunities by combining advanced social collaboration with secure information delivery and distribution. 6Connex has developed award-winning, results-oriented virtual technology marketing solutions for industry leaders such as Cisco, HP, DuPont, Intel and Procter and Gamble. Visit
http://6connex.com/
for more information.
6Connex Press Contact:
Scott Kellner
6Connex
408.341.1207
scott.kellner@6connex.com
###