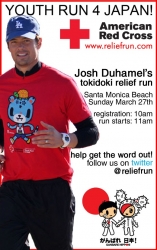 Santa Monica, CA, March 29, 2011 --(
PR.com
)-- peakPRgroup is proud to announce the huge success of Josh Duhamel's Youth Run 4 Japan, proceeds for the run were donated to the American Red Cross.
An astounding 4000 runners of all ages showed up to support The American Red Cross at Santa Monica Beach on a rainy day and raised over a hundred and thirty thousand dollars for the Japan Relief Fund. Josh's wife Fergie of the Black Eyed Peas, and the Hilton sisters plus other celebrities all came out to support.
KROQ provided the music and kept the crowd in great spirits.
Sponsors such as Puma, Tokidoki, smart water, Oxylent, Coke Zero, ONEHOPE Foundation, Powerade and Fat Burger and Pop Chips, all provided product for the for the dedicated runners. Tokidoki's amazing T-shirts to date have raised an amazing ninety thousand dollars in sales alone. Thirty thousand dollars was raised at the race and private donations help to drive the total up to AID Japan.
Josh Duhamel said, "4000 runners came out in the pouring rain today which tells me something, the Youth of LA set an example of just how powerful they can be when we come together to help when others are suffering."
Christine Peake the CEO of peakPRgroup, is proud to announce that last year for Haiti relief Josh, the American Red Cross and peakPRgroup raised ninety-thousand and they are thrilled to have raised more and the runners increased in numbers.
peakPRgroup were the PR firm for the wonderful event for the second year, from the run's inception and are the PR Firm representing the www.ReliefRun.com 4 Japan, American Red Cross, Oxylent and the ONEHOPE Foundation.
www.reliefrun.com
www.peakprgroup.com
www.vitalah.com
www.santmonicaamericanredcross.org
###