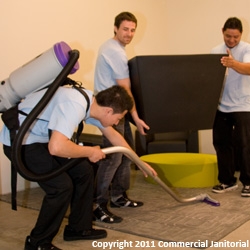 Santa Barbara, CA, March 30, 2011 --(
PR.com
)-- Leading national office cleaning company Commercial Janitorial announced expansion of its
Santa Barbara office cleaning services
. The move is part of the company's overall strategy to expand its focus on the Southern California commercial cleaning market.
In addition to the announcing their increased commitment to the Santa Barbara market, Commercial Janitorial has also made public the appointment of Will Scholtz as General Manager of Southern California operations. Scholtz brings over a decade of experience managing the company's operations in Arizona.
"Santa Barbara and Commercial Janitorial make a great fit, as the area is well known for their environmental protection policies," Scholtz said. Indeed, it is this commitment to environmentally sensitive cleaning practices that has allowed Commercial Janitorial to thrive at a time when other companies are struggling to attract and retain clients in the current economic downturn. "Commercial Janitorial is a green cleaning company, and that means that our overall cleaning philosophy is one that focuses on total building health and the well being of their occupants," Scholtz went on to say.
When asked to define what that means in terms of companies making decisions on which cleaning companies to use, Scholtz explained that the level of surface cleaning is the same as traditional cleaning methods, but green cleaning does not simply mask odors with chemicals but instead relies on environmentally sensitive materials combined with new techniques that does not leave behind potentially harmful residues or release toxic by products such as VOC (volatile organic compounds) into the atmosphere. "The best part," Scholtz explained, "Is the cost to clean is the same." In fact, over time the cost may even be less as studies have shown that building cleaned using green processes result in higher levels of productivity over time.
The company is expected to increase service to Santa Barbara, Santa Ynez, Solvang, Los Olivos, Carpinteria, Isla Vista, Goleta, Montecito, Summerland, Ventura, Oxnard, and Camarillo within the next few weeks.
Founded in 1995, Commercial Janitorial has grown to become one of the largest cleaning companies in the United States specializing in commercial cleaning services including
Santa Barbara medical office cleaning
, commercial office cleaning, and building maintenance. For more information visit http://www.santabarbaraofficecleaning.net/
###