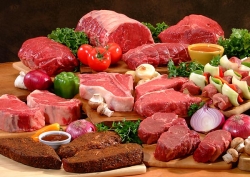 Denver, CO, April 08, 2011 --(
PR.com
)-- JS Food Brokers LLC, master broker and marketing arm for CO2 pads patent holder CO2 Technologies Inc., is helping poultry and meat processing plants retard bacteria growth in packaged products delivered to restaurants and retailers. By providing an extended shelf-life and improved food safety, these companies are able to cut costs while providing fresher food.
"With the cost of feed, fuel, and food skyrocketing, meat and poultry processors are looking for ways to reduce costs, while maintaining quality and, at the same time, improve food safety for their customers. Our CO2 Fresh-Pads help companies solve this problem at a very low cost." – Steve Josephs, CEO, JS Food Brokers LLC, www.jsfoodbrokers.com
Chicken processors in Texas and Arizona that deliver to restaurants and fast food chains across North America found that they could significantly reduce the purge, maintain weight and extend the shelf life of their chicken products by 20% using CO2 Fresh-Pads.
"There is not another product on the market today that can provide the food safety advantage, extended shelf life and reduced purge at the price our customers are experiencing with our CO2 pads," said Josephs.
In contrast to other food preservation technologies, CO2 pads provide an all-natural solution without resorting to the use of expensive equipment, chemicals, preservatives or high heat processes that can affect the integrity of the product or add substances that today's consumers find undesirable.
CO2 Fresh-Pads gradually release CO2, a natural atmospheric gas, in a controlled manner displacing Oxygen and Ethylene to retard bacteria growth from 20%-50% on perishable foods, significantly reducing spoilage to provide improved food safety for the consumer.
Using CO2 to preserve freshness is a well-established treatment to halt bacteria growth and reduce spoilage without affecting the food in any way. But, never before has there been a way to use this technology without a large capital investment in equipment and training.
"For less than 1 cent a pound, CO2 Fresh-Pads give meat processing plants an advantage over their competition by offering a longer shelf life, requiring less frequent deliveries and reducing the need for writing credits, thereby cutting costs for both themselves and their customers," said Josephs.
Processing plants find that CO2 pads:
- Improve food safety by significantly retarding bacteria growth from 20%-50%
- Extend the shelf life and reducing purge in meat and poultry products
- Cut costs while providing better color, texture and a higher quality product to their customers
If you'd like a free trial or more information about CO2 Fresh-Pads or to contact JS Food Brokers LLC, please call 720-475-0330 or email info@jsfoodbrokers.com or visit www.jsfoodbrokers.com or www.CO2Pads.com.
###