Governor General of Jamaica, Sir Patrick Allen, ON, GCMG, CD, Has Been Named Patron of the Issa Trust Foundation
The Issa Trust Foundation board announced today the appointment of His Excellency the Most Honourable Sir Patrick Allen ON, GCMG, CD, to the position of Patron of the Issa Trust Foundation.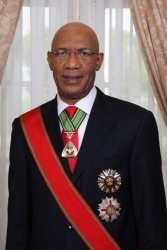 Miramar, FL, April 09, 2011 --(
PR.com
)-- His Excellency The Most Hon. Sir Patrick Allen, ON, GCMG, CD, was appointed Governor-General of Jamaica on February 26, 2009. A noted Christian, Sir Patrick Allen served the Seventh-day Adventist Church in various capacities for 28 years. He has served as Principal, Pastor, Director and President in the Central Jamaica Conference and West Indies Union Conference respectively. Sir Patrick is no stranger to public service in Jamaica, having taught in public schools for ten years, and while working with the church, served on the boards of the Government's Public Broadcasting Commission, Police Civilian Oversight Authority, and the Strategic Oversight Commission. He was knighted by Her Majesty, Queen Elizabeth II in June, 2009.
His Excellency stated, "The wellbeing of people goes beyond the scope of material and physical structures. It includes intangibles such as care, love, service and sympathy towards others, and this, merged with the physical provisions, determines overall wellness.
"Since 2005, the Issa Trust Foundation, under the auspices of Couples Resorts, has been helping to provide health care and education for children and young adults in rural Jamaica. The focus on these two areas is important as they are critical to the development and prosperity of our country.
"Your selfless service and volunteerism has helped to change the lives of many children and adolescents, who have experienced improved reading and writing skills. The access to much-needed medical services will enable many more persons to enjoy healthy, happier and more productive lives.
"The Issa Foundation is a shining example of the positive results which come from acknowledging and effecting corporate responsibility in a practical way. I congratulate you and your local and international partners for the work which you continue to do. Your efforts are a true depiction of selfless love and service to others."
"We are extremely humbled and thankful for His Excellency's acceptance, and for his enduring support of our work," states Diane Pollard, President & CEO, Issa Trust Foundation (www.issatrustfoundation.com). "Giving children a healthy start in life, no matter where they are born or the circumstances of their birth, is the moral obligation of every one of us. We have a global responsibility to give of the utmost of ourselves, materially and morally."
"It is with deep gratitude that we salute his Excellency the Governor General, Sir Patrick Allen, for his willingness to serve as Distinguished Patron of the Issa Trust Foundation and his endorsement of the work of the Foundation," states Paul Issa, Deputy Chairman of Couples Resorts.
"Couples Resorts and its parent company, the House of Issa, have a long history of philanthropy in Jamaica, going back to the early 1900s when my grandfather Elias Issa became a successful merchant. He saw the need to 'give back' to his adopted home, Jamaica, where he settled with his father in 1893. From his humble beginnings as a pushcart peddler, he built a business empire that is still operating today, well over a hundred years later.
Among the many charitable organizations he created were the Issa Scholarship and the Mary Issa Clinic. Today, as a result of the donations of many Couples guests and many other charitable entities, the Issa Trust Foundation continues in that tradition."
www.issatrustfoundation.com
###
Contact
Issa Trust Foundation
Diane Pollard
515-480-1683
www.issatrustfoundation.com

Contact