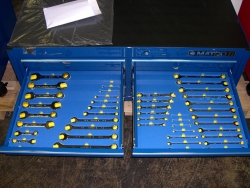 Saint Clair Shores, MI, April 18, 2011 --(
PR.com
)-- U.S. Government Awards TRM Sales Management General Services Administration (GSA) Contract.
GSA Advantage is the Federal Government's premier online shopping superstore, providing streamlined, efficient purchasing to acquire goods and services. Along with the on-line shopping and ordering system, GSA eBuy allows customers to post Requests for Quotes (RFQ) for products and services.
Tom Meier, President of TRM Sales Management, is pleased to announce that with this newly awarded U.S. General Services Administration contract, customers are provided a one stop shopping source for government procurement of commercial products and services. "We at TRM Sales Management have worked hard to earn the trust of our customers. Receiving the GSA award confirms that our customers have and will continue to receive the best tools for the right value from TRM Sales Management."
TRM Sales Management is a distributor of high quality Matco Tools supplying the needs of the US Government, the aviation and aerospace industries, as well as commercial customers. In addition to providing high quality tools and equipment, TRMSM specializes in the development of complete kits. With emphasis in Foreign Object Damage (FOD) prevention, tool management systems, and specialized tool storage systems, TRMSM has become a leader in the tooling industry. TRM Sales Management was founded on the principle of providing high quality products and establishing close business relationships with our customers and providing exceptional customer service.
For further information call Tom Meier (586) 778-1500. Or tom@trmsm.com
www.trmsm.com
Contact: (586) 778-1500
###