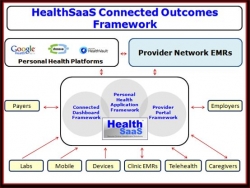 Clackamas, OR, April 19, 2011 --(
PR.com
)-- Providers need views of patient data that are less fragmented than at present. The evolution of health information technology is driven by the need to connect data from different sources into the flow of the clinical practice as an asset, while minimizing unproductive data entry work.
White labeled versions of the cloud based HealthSaaS Connected Outcomes Framework technology can be a key component to facilitate successful clinical trials, research studies and Patient Centered Medical Home (PCMH) solutions. Disease and condition specific websites may also leverage white labeled solutions to enhance their online portfolios. Connectivity to Personal Health Platforms including Microsoft HealthVault, Google Health and Dossia are also available.
HealthSaaS technologies assist patients and clinicians in tracking and monitoring medical conditions while improving outcomes by incorporating data from many sources including medical devices, mobile applications and more.
http://www.healthsaas.net/Services/PatientOutcomesFramework.aspx
Other available features:
- Completeness rules and always-legible reports
- Accurate and verifiable timestamps
- Flexible designs for patient populations of all ages
- Disease and condition specific forms and questionnaires
- Caregiver portals
- Powerful graphical reporting engine
Bob Tolar, President of HealthSaaS.net states, "Making the Connected Outcomes Framework available for white labeling provides the opportunity to collect and share information that can increase efficiencies and lower costs. This further enables opportunities for global collaboration and also helps solve the issue of clean data.
"HealthSaaS works closely with clinicians and researchers to ensure that our suite of services assists in providing the best possible care for patients and can help improve effectiveness of treatment."
###