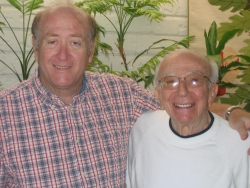 Los Angeles, CA, April 25, 2011 --(
PR.com
)-- Current child performers (and maybe even their parents) are too young to have caught The Brady Bunch in the first primetime run of the show. But that doesn't stop them from loving the retro-cool, iconic TV series. This month the producers of that show, Lloyd and Sherwood Schwartz, will be honored alongside 150 current child actors at the CARE (Child Actor Recognition Event) Awards. The event will take on April 30th at Universal Studios Hollywood.
The Schwartz's are the first… if not the only… father/son producing team in television history; they have worked together since 1965. After an extensive award-winning career in radio and television, Sherwood created and produced "Gilligan's Island," when Lloyd joined him. Together, they have done many TV shows, movies and stage plays including "The Brady Bunch" in every form… even the recently published book, "Brady, Brady, Brady." This year, Sherwood will turn ninety-five and is still working. He and Lloyd are executive producers of the upcoming Warner Brothers feature film of "Gilligan's Island."
Their credits are too numerous to mention, but many have included child performers. Their love of children and programming for family viewing has been their main concern over the years. In addition, Lloyd and his wife, Barbara, are the founders and executive directors of "The Storybook Theatre of Los Angeles" which has produced interactive musicals for children at Theatre West for the last twenty-five years.
The CARE Awards are sponsored by BizParentz Foundation. Lloyd Schwartz will be on hand to accept his honor this year, and they will share the stage with former child actor Erin Murphy (Tabitha from Bewitched) and 150 current young professionals. CARE Awards for those child actors are based on a unique point system where young performers (18 and younger) must qualify with a combination of professional acting work in 2010, academics, union membership, training, a written essay, community service, parent industry knowledge, and several other criteria. All of those items are designed to support the kind of career and commitment to family exhibited by Sherwood and Lloyd Schwartz.
Proceeds from the event benefit the BizParentz Foundation, a non-profit organization dedicated to education, advocacy and charitable support to parents and children engaged in the entertainment industry. The CARE Awards is an invitation only event, but there are some seats still available for entertainment industry related families. Tickets to the event are $150 and include entrance to Universal Studios Hollywood. For ticket information please email BizParentz Foundation at bizparentz@aol.com.
###