Florida Virtual School's Shakespeare Festival Goes Virtual
School Uses 6Connex Virtual Experience Platform to Create a Virtual Shakespearean Environment .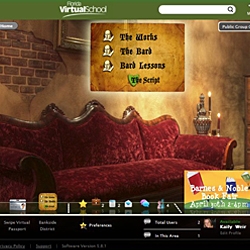 Campbell, CA, April 26, 2011 --(
PR.com
)-- Florida Virtual School (FLVS) has created an online environment that transports users to the world of Shakespeare's time. Designed for lovers of the renowned playwright and poet, the Virtual Shakespeare Festival will take place April 26-27, 2011.
Attendees will view presentations created by FLVS students as they explore their favorite Shakespeare scene or add their own creative spin to one of his plays. They will also learn about the language used in his work and discover how he continues to have an impact on modern culture.
"Attendees to our virtual environment will get transported to an amazing point in time," said Cindy Knoblauch, Student Activities Coordinator at Florida Virtual School. "They will get to explore various topics and subjects that have been influenced by one of the world's greatest writers."
"Enabling our students to interact with authors and fans who love Shakespeare as much as they do is tremendous," said President and CEO, Julie Young. "Conducting the festival virtually is also important, as it supports our overall e-Learning model."
The event is free. Information about the festival can be found here:
www.FLVS.net/shakespeare
.
About 6Connex
6Connex is the pioneer of virtual experience technology marketing solutions. Our Virtual Experience Platform is online conference software that maximizes ROI through web conferences, online seminars, digital expos, virtual training and online presentations for external customers and prospects plus internal employees and partners. In addition to expanding reach and market presence via web presentations, it enables new virtual networking opportunities by combining advanced social collaboration with secure information delivery and distribution. 6Connex has developed award-winning, results-oriented virtual technology marketing solutions for industry leaders such as Cisco, HP, DuPont, Intel and Procter and Gamble. Visit
http://6connex.com/
for more information.
About Florida Virtual School:
Florida Virtual School (www.flvs.net) is an established leader in developing and providing virtual K-12 education solutions to students in Florida, the U.S., and the world. A nationally-recognized e-Learning model and recipient of numerous awards, FLVS was founded in 1997 and was the country's first, state-wide Internet-based public high school. Today, FLVS serves students in grades K-12 and provides a variety of custom solutions for schools and districts to meet student needs.
###
Contact
Florida Virtual School
Star Kraschinsky
407-513-3456
www.flvs.net
scott.kellner@6connex.com

Contact