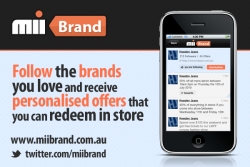 Melbourne, Australia, May 04, 2011 --(
PR.com
)-- MiiBrand (pronounced "my brand"), a new web based start up, today announced that they will be launching a new Australian shopping based website and iPhone app designed specifically to engage tech savvy consumers and drive them back into stores to redeem customised offers using their mobile device. As opposed to the current growth in e-commerce platforms, MiiBrand aims to use smart technology to help drive increased store traffic, loyalty and revenue for bricks and mortar retailers.
"While retailers are struggling to deal with online competition, a strong AU dollar, rising costs and new overseas entrants, we want to change the game with an innovative solution that drives loyal customers back into stores where they get real customer service," said Jeremy Fisher, one of the MiiBrand founders. "It's time for retailers and marketers to realise that it's not about eyeballs anymore, it's about reaching your customers at the right time, at the right place and with the right offer." Engagement via gamificationis also a big part of the solution with MiiBrand members rewarded for key actions such as sharing offers via social networks, checking in at stores and providing retailers with insights by answering brand and product related questions.
The start up is operating in stealth mode at the moment and details of the website and how it works are being kept under wraps until launch which is planned for July this year. A pre-launch page is live at www.miibrand.com.au where the public can register for a priority invite when the site launches. All registrations go into the draw to win an iPad2. The page is also calling for interested brands or marketers to submit expressions of interest in partnering with the new start up.
###