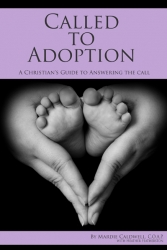 Nevada City, CA, May 04, 2011 --(
PR.com
)-- Recognized adoption expert and adoptive mother, Mardie Caldwell, C.O.A.P. and Founder of Lifetime Adoption Center introduces her fifth book, "Called to Adoption – A Christian's Guide to Answering the Call." Co-authored by Heather Featherston, the book provides facts and guidelines to help Christian families learn about the process of adoption, and understand the various choices adoptive parents must consider including: selecting adoption professionals, funding the adoption, and start-to-finish planning and preparation. The authors also provide compelling statistics that demonstrate the real need for
Christian adoption
, as well as answers to commonly asked questions—providing all the information needed for any Christian Mother or Father who may be considering the possibility of adoption.
"Mardie's book offers personal experiences, real stories and valuable sources of information. As you do your homework, Listen carefully for the voice of the Lord," explains Terry Meeuwsen, Co-host of The 700 Club, "If He calls you to it, He'll provide everything you need for it. Mardie's book is part of that provision. It's a wonderful resource."
Today, more and more Christians are choosing to learn more about the miracle of families created through adoption. In fact, three out of every five people are somehow touched by adoption. Caldwell states, "We realize that adoption may not be the answer for every Christian family, but after reading this book, Christians will feel educated and fully empowered to make this decision, and possibly share their insight with families and friends wondering if they have been called to adoption."
Called to Adoption is available for purchase online for $12.95. For the month of May 2011, as a special "Mother's Day" offer, every book ships for free and includes a complementary DVD when ordering directly at
www.CalledToAdoption.com
and using coupon code "FAMILY."
If you are an editor or reporter and are interested in receiving a complimentary copy of the book to review, or would like to schedule an interview or speaking engagement with Mardie Caldwell or Heather Featherston, please visit their
media resource center
or contact them at 800-923-6784.
About the Authors:
Mardie Caldwell is a Certified Open Adoption Practitioner and adoptive mother who is the Founder and CEO of Lifetime Adoption Center in California. Facilitating approximately one adoption every three days, Lifetime has become one of the largest adoption centers in the country. Mardie has been featured on CBN's The 700 Club, Dr. Laura, NBC's The Today Show, Larry King Live, CNN's No Bias, No Bull, and is often sought for numerous national radio interviews and print articles.
Heather Featherston is Director of Adoption Services at Lifetime Adoption Center, overseeing the coordination of services for thousands of clients nationwide. Heather has a passion for working with women and families facing issues surrounding pregnancy, adoption, and parenting. She has spoken to professional groups, conducted trainings for birth parent advocates, and has made television and radio appearances discussing various aspects of adoption.
###