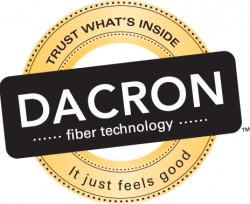 Kennesaw, GA, May 07, 2011 --(
PR.com
)-- Stymied about what to give this Mother's Day? Take a tip from America's Mommy Bloggers: she'd really appreciate some zzzzzz's.
In a blind snap-poll conducted by the DACRON® brand team among online motherhood and parenting writers, 53 percent of respondents said they'd prefer "a good night's sleep" over flowers (21 percent), jewelry (18 percent) or chocolates (8 percent) this Mother's Day.
Further, the bloggers revealed how they get their best rest. More than half confessed they are "side sleepers," while 15 percent were more comfortable on their stomachs and 11 percent like sleeping on their backs. Fifteen percent of respondents said they slept in "whatever position I crash," and six percent slept soundly curled up.
Asked to describe what they liked about their favorite pillow and how it helped give them a good night's sleep, the responses ranged from amusing to personal – but the bloggers universally desired a comfortable, supportive pillow. "I like that my pillow has just the right amount of squish to it," said one. "It's not so firm that it causes me to get a stiff neck, and it's not so soft that it completely loses its shape, so it hugs my head and neck just right."
Another blogger, echoing Goldilocks, quipped, "Soft, but not too soft. Firm, but not too firm. The underside is always cool." One blogger advised, "Like buying a mattress, when buying a pillow look for quality over price. A few extra dollars can mean the difference between an 'okay' pillow and one that provides you with a deep, relaxing sleep."
Choosing the pillow that will provide a mother with the comfort and high-performance she craves is getting easier, thanks to the DACRON® fiber quality seal featured on packaging of bedding with branded fiberfill from INVISTA. The DACRON® fiber quality seal endorses brands, like luxuriously comfortable DACRON® Comforel® fiberfill, durable and functional DACRON® Performa® fiberfill, and long-lasting DACRON® DuraLife™ fiberfill. With the quality seal's taglines of "Trust What's Inside" and "It Just Feels Good," shoppers will immediately recognize that pillows bearing the DACRON® fiber quality seal offer a combination of fill power, comfort and durability.
The DACRON® brand, one of the leading home textile brands in consumer awareness studies, has been associated with bedding fiberfill that has been helping moms get a good night's sleep for over 50 years. With two-thirds of consumers saying they are familiar with the DACRON® brand in a 2010 nationwide survey, it has one of the highest levels of consumer awareness among popular home furnishings brands.
About INVISTA
INVISTA is one of the world's largest integrated producers of polymers and fibers, primarily for nylon, spandex and polyester applications. With a business presence in over 20 countries, INVISTA's global businesses deliver exceptional value for their customers through technology innovations, market insights and a powerful portfolio of global trademarks including: ADI-PURE®, ANTRON®, AVORA®, C12™, COMFOREL®, COOLMAX®, CORDURA®, CORFREE®, DACRON®, DBE®, DYTEK®, FRESHFX®, LYCRA®, PERFORMA™, POLARGUARD®, POLYSHIELD®, POLYCLEAR®, SOLARMAX®, STAINMASTER®, SUPPLEX®, SUPRIVA™, TACTEL®, TACTESSE®, TERATE®, TERATHANE® and THERMOLITE®. For more information, visit www.INVISTA.com.
###
Editor's Note: Snap poll was conducted by 2PR Chicks, LLC from April 4-30, 2011 among online motherhood and parenting writers ("mommy bloggers"). Total of 102 responses. Complete survey results available upon request, m_nugentlee@2prchicks.com.