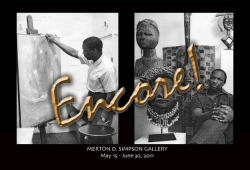 New York, NY, May 13, 2011 --(
PR.com
)-- For the first time in three years, The Merton D. Simpson Gallery, located at 38 West 28th Street, will be officially open to the public from May 17-June 30, 2011, with Encore!, a Merton D. Simpson tribute exhibition. Encore!, a passion project curated by Gallery Director Juliette Pelletier and ­Karen Tuominen, aims to honor and bring Merton D. Simpson back to the spotlight for his history-making artistic accomplishments.
Merton D. Simpson, 82, is probably best known as a prominent African Art expert, collector and gallerist. In addition, he is a seasoned jazz musician and accomplished artist. In the 50's, he was one of very few African American artists to receive recognition, when his work was included at shows at the Guggenheim and the Metropolitan Museum of Art. The gallery's staff has recently completed an extensive excavation, renovation and inventory process. In addition to turning up treasures within his African and fine art collections, the results revealed fascinating archival material on Merton D. Simpson's extraordinary life - and a lot of amazing artwork.
Encore! will showcase the highlights and history behind Simpson's six decades worth of work –spanning several series' and genres– with extra emphasis devoted to his groundbreaking early (1950's) "Abstract Expressionist" paintings and the politically charged "Confrontation" series (1960's-early 70's) which clearly demonstrate Simpson's tribal art influences. Works from his two colorful, extemporaneous 1980's "Jazz" inspired series' will be displayed with photographs of Merton playing his beloved saxophone. In a nod to both his African ancestry and role as African art dealer, the 1990's "Ancestral Improvisation" paintings are colorful collages created with the hunting cloths his tribal artworks were wrapped in. Simpson spiritual "Middle Passage" paintings, created in the early 2000's, depict soulful journeys. A prolific painter of "Portraits," Simpson compulsively captured the likenesses of friends, family and famous figures throughout his career.
The exhibition will also feature rarities – such as never before shown "studies" of works, photographs, historic news clippings and gifts from famed artists (Halsey, Arman) created expressly for Merton. Video footage from recent exhibitions in South Carolina and New York, as well as archival clips will also be shown. The artwork and photographs will be accompanied by selections from Simpson's world-renowned African art collection.
Encore! Gallery Talk + Reception
Wednesday, May 18, 2011
6-8pm
On Wednesday, May 18, from 6-8 pm, the Merton D. Simpson Gallery will host a reception celebrating the appointment of Sandra Rupp, Director of Hampton III Gallery, Greenville, SC, as The Merton D. Simpson Gallery's official South Carolina Gallery Representative. At the event, Sandy will speak on her pivotal role in reigniting the Merton D. Simpson flame. Her curiosity about Merton's work came about via her relationship representing his early mentor and lifelong friend, well-known South Carolina artist, the late William Halsey. Her efforts in reaching out to the NY gallery not only led to the rediscovery and restoration of Merton's magnificent paintings, she also organized two well received exhibitions* in Merton's home state in late 2010-early 2011: a Merton D. Simpson retrospective exhibition at Hampton III Gallery and "Confrontations" at the Greenville County Museum of Art. Several of these works have been returned to New York to be enjoyed at Encore!
Guests at the gallery talk will be invited to share their thoughts about Merton D. Simpson on camera for the gallery's ongoing documentary project.
###