MiiBrand Website and iPhone App Named in "SMART 100" Index
MiiBrand has been named one of Australia's 100 most innovative products or services, in one of the largest and most audacious innovation awards of its kind in Australia – the Anthill Magazine "SMART 100" Index.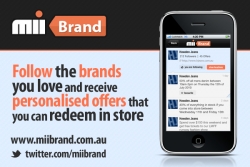 Melbourne, Australia, May 14, 2011 --(
PR.com
)-- About MiiBrand
MiiBrand is an innovative website and iPhone app designed specifically to engage with today's consumers and increase clothing retailers store traffic.
It allows retailers to deliver real time and highly targeted offers that leverage mobile geo-location services to reach consumers when they come within range of their favourite stores. Offers are redeemed in-store via a mobile device which helps retailers increase store traffic and conversion. Regular engagement and participation is encouraged by using game mechanics, social media integration and a brand feedback platform.
"While retailers are struggling to deal with online competition, a strong AU dollar, rising costs and new overseas entrants, we want to change the game with an innovative solution that drives loyal customers back into stores where they get real customer service," said Jeremy Fisher, one of the MiiBrand founders. "Users will be rewarded for engaging with their favourite brands via actions such as 'checking in' at stores and sharing offers with friends via social networks." Retailers will also have the opportunity to offer 'check-in' deals that increase the likelihood of purchase behaviour closest to the point of sale.
MiiBrand is set to launch to the public in July. A
pre-launch page
is live where the public can register for a priority invite when the site launches. The page is also calling for interested brands or marketers to submit expressions of interest in partnering with the site for launch.
The public can vote for MiiBrand in the Readers' Chocie award on the
following page
.
About the Smart 100
The SMART 100 Index was created by leading business media channel Anthill Magazine in 2008 to identify and rank Australia's 100 most innovative products, proving to be one of the largest surveys of its kind in Australia.
"In true Anthillian style, the SMART 100 is an ever-evolving, ever-improving experiment," said Anthill founder and Editor-In-Chief James Tuckerman.
"It identifies and ranks new Australian innovations by applying a combination of crowdsourcing, collaboration and common-sense. We employ the judgement of 'mavens' and readers.
"Unlike your average awards program, we don't lock a panel of expert adjudicators in a small room. Neither do we demand a thorough analysis of each applicant's P&L statement. We don't even request an historical snapshot of 'runs on the board' or commercial achievements.
"This is because innovation is future focussed. It is about identifying and solving problems in ways that will change the way we live, do business and think."
What is a "maven"?
Academics have known about the existence of Mavens for many years, claiming they have a particular psychotype. However, it was Malcom Gladwell's book "The Tipping Point" that really brought attention to this underutilised group in society.
Gladwell described Mavens as "those who are intense gatherers of information and impressions, and so are often the first to pick up on new or nascent trends." "Maven" is a Yiddish word that means, literally, "one who understands".
According to Tuckerman, "The maven's unique talent is his or her ability to unearth and identify, from all the new products and services available in the marketplace, the innovations that are worth propagating. A maven also generally has the ability to communicate the potential of the innovation to the broader public and, therefore, plays an integral role in the mass take-up of any innovation.
"These people have the ability to identify innovations that will meet an important need for the population. The hypothesis is that Mavens will provide a more predictive measure of innovation than mass consumers or, indeed, experts in the field – because they have a unique ability to identify the importance and relevance of an innovation."
What is Anthill Magazine?
Anthill was initially launched as a print magazine, in September 2003, by its current editor-in-chief James Tuckerman, who at the age of 26 quit his day job, departing a promising career in corporate PR, to pursue his own entrepreneurial journey.
Since then, it has evolved into one of Australia's leading online communities for Australian business owners, ranked among the Top 50 Business & Finance websites in Australia by Nielsen Online Ratings. It is dedicated to innovation, entrepreneurship and the commercial development of Australian ideas.
For further information on MiiBrand, contact:
Ben Howden on 0421 937 341
For further information on the SMART 100, contact:
James Tuckerman on 0422 009 230
Further images available on request.
###
Contact
MiiBrand Pty Ltd
Ben Howden
+61 421 937 341
www.miibrand.com.au

Contact