Honda Dealership Gets Industrial Flooring from Versatile Building Products & Garage Experts
Garage Experts® of Central PA completes top-quality industrial coating for a local Honda® shop and eyes future dealership projects.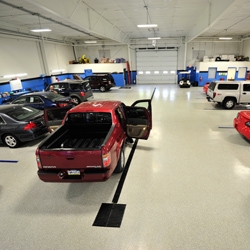 Williamsport, PA, May 18, 2011 --(
PR.com
)-- If you're an
industrial floor coatings installer
, how do you tackle 28,000 square feet of bare concrete at a Honda® dealership that's requesting tight deadlines, quality work and a top-notch product? If you're Sean Howell, you do it 7,500 square feet at a time, and you make sure you go above and beyond the shop's expectations.
That's exactly how Howell approached a recent industrial floor coating job at a Honda® dealership in Muncy, Penn. Howell, owner of a Garage Experts® franchise in Williamsport, Pennsylvania, wanted to ensure not only that he delivered on his promises of quality workmanship with his industrial coatings, but also that the job would lead to future work with additional Honda® dealerships in the area.
Howell has the support of a respected franchisor behind him, and the approved coatings manufacturer, Versatile Building Products, ensures that each franchisee undergoes extensive training at corporate headquarters to learn how to install the products. Moreover, the products are proven to withstand the elements and have been installed on millions of square feet without failure.
Howell launched that initial project in January 2011, using
industrial floor coatings
manufactured by Versatile Building Products: 4195 Wicking Epoxy, light gray ¼-inch vinyl flake #6004 5205 hybrid Polyaspartic Clear Primer and finished with two clear coats of Polyaspartic 5108. The finishing touch was an 80 percent white/20 percent gray custom flake in the new car area.
Because Howell's team was working with a brand-new slab of concrete, there was no prep work required, allowing the team to get started right away and meet the shop's deadlines. The project was completed in phases and done by the end of February, well in advance of a May open house at the shop, at which Honda® executives are expected to pay a visit and will have the opportunity to see the new flooring. Howell hopes the visit will allow him to develop an ongoing partnership with Honda® so he can complete more jobs like this one. "I'm hoping they love it," says Howell. "I can't see why they wouldn't."
Howell has already completed a job at a nearby Hyundai® dealership that liked the quality of Howell's work at the Honda® shop. He notes that Garage Experts'® industrial floor coatings are popular with dealerships because there's minimal effort required to keep the shop looking clean and professional. Says Howell, "All the grease stains just come right off."
To learn more about Garage Experts, visit www.garageexperts.com.
About Versatile Building Products
Versatile Building Products specializes in the Research and Development of high performance coatings used over flooring surfaces such as concrete to provide a decorative finish that requires little maintenance when exposed to harsh conditions and traffic. All products are manufactured using strict quality control procedures in its 60,000 sq ft state of the art facility located at 245 Carl Karcher Way, Anaheim CA 92801. To learn more about Versatile Building Products, visit www.garagecoatings.com or call 714-829-2600.
###
Contact
Versatile Building Products, Inc
Jason Griffiths
714-829-2550
www.garagecoatings.com/

Contact