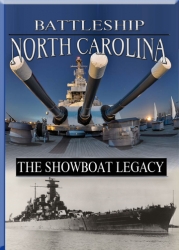 Wilmington, NC, May 21, 2011 --(
PR.com
)-- Experience seven decades of history through one-of-a-kind interviews, rare photographs and vintage film footage in BATTLESHP NORTH CAROLINA; The Showboat Legacy, premiering on UNC-TV, Sunday, May 29, at 6:30 PM. This enlightening documentary, from Wilmington filmmaker Rob Hill explores the history behind this decorated Naval vessel and the monumental task of maintaining it as a National Historic Landmark. In this half-hour documentary past and present merge as this program highlights the USS North Carolina's history and her legacy that continues today.
Built in 1937 by the New York Naval Shipyard, the USS North Carolina was launched on June 13, 1940 and commissioned on April 9, 1941. At the time of her commissioning she was considered the world's greatest sea weapon earning her the title of Show Boat. During World War II the USS North Carolina participated in every major naval offensive in the Pacific area of operations and earned 15 battle stars. Today, this grand vessel rest on the edge of the Cape Fear River over looking historic downtown Wilmington inviting visitors to tour her many decks, interior rooms and gun turrets.
See this unprecedented look at this local treasure in BATTLESHIP NORTH CAROLINA; The Showboat Legacy, premiering on UNC-TV, Sunday, May 29, at 6:30 PM. Following the broadcast the film will be placed into the American Public Television library for potential broadcast on the nearly 350 public television affiliates that make up the Public Broadcasting System.
BATTLESHIP NORTH CAROLINA; The Showboat Legacy is a production of Common Sense Films. The Wilmington, NC, film company spent Eighteen months developing and producing a documentary that captures the true spirit of this unique local attraction. Common Sense Films began production in late 2009, after much research and meeting with museum historians, they began collecting interviews over a 10-month period. By July 2010, Rob Hill had collected almost 25 hours of interviews, over 500 photographs, as well as a collection of never before seen 16mm film footage. He is also the producer of The Fort Fisher Hermit: The Life & Death of Robert E. Harrill.
UNC-TV is North Carolina's only member-supported statewide broadcasting system, made possible through a unique partnership of public investment and private support. BATTLESHIP NORTH CAROLINA; The Showboat Legacy is part of UNC-TV's commitment to producing and broadcasting programs for and about North Carolina, making it one of the state's most important sources of information.
Contact:
Rob Hill - Producer/Director
robhill_productions@mac.com
(910) 619-9838
###