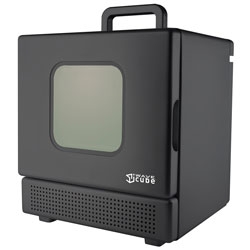 Cleveland, OH, May 24, 2011 --(
PR.com
)-- iCubed International, LLC, the inventor of the iWavecube, the world's smallest, compact, microwave oven, wants to give Dads and grads something to cheer about for this upcoming Father's Day and graduation.
To the first 50 media outlets - radio, television, online, or print - iCubed International, LLC, will give an iWavecube to one lucky winner. The media outlet only needs to send an e-mail to myiwavecube@gmail.com verifying they are participating in the contest by promoting the iWavecube as a giveaway.
The contest starts Monday, May 23, 2011 and will end one week prior to Father's Day. All winners' contact information must be submitted to iCubed International, LLC, by June 13,2011. Once each lucky winner's contact information is submitted, the iWavecube will be shipped directly to the home at no cost to the media company.
The media outlet's blog, show, or Website will be linked to http://iwavecube.com promoting the contest participation.
CEO, Phil Davis, is excited for the contest because it connects the audience with the media.
"I think this promotion is a great way to connect with the blogosphere and media. It's a neat tactic to get participation from the radio, print, online and TV audience," Davis said.
With over 40 applications that include Dorm Room, Man Cave, Tailgating, Boating and Camping, the iWavecube is a unique gift for Dad for Father's Day, or the new graduate. iCubed International, LLC, is the first company to offer an application store based on microwave technology.
"I guarantee that the iWavecube is the only microwave a man would ever want to receive," Davis said.
###