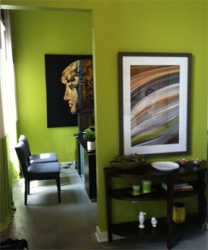 Winter Park, FL, May 25, 2011 --(
PR.com
)-- Condo and Apartment renovations are becoming more popular as builders look to update existing buildings in desirable parts of town rather than build new in the outlying areas. Re-skinning, kitchen upgrades and lobby renovations are high on the list for multi-family clients.
Award-winning interior design firm Beasley & Henley Interior Design
, is working with Atlanta based developer Pollack Partners, to update the design of their latest multi-family acquisition in Nashville, TN.
The project, Velocity, is being updated by the interior designers at Beasley & Henley Interior Design. The early stages include office renovations, which will soon to be followed by common area designs and model updates.
"The project will be dynamic and energetic," says design principal Troy Beasley. "The colors are bright and inviting, with furnishings, designs and oversized artwork that really grabs your attention."
Catering to a young demographic the use of a youthful, edgy design was needed for Velocity. Troy Beasley and his team are working closely with the developer and manager to create the perfect interior design and furnishings package, and keep the budget intact.
For more information on Beasley & Henley and to see photos of their work, log onto www.beasleyandhenley.com.
###
Beasley & Henley Interior Design is a 18-year-old interior design firm, specializing in Interior Architecture, Luxury Commercial Interiors and Exclusive Residences. Their work has been featured in regional and national publications and their awards are numerous. Beasley & Henley's award winning design and architectural detailing can be seen throughout Florida and across the country.