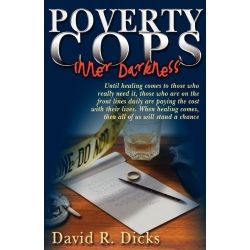 Lansing, MI, May 25, 2011 --(
PR.com
)-- Generation - Help is a company that is committed to helping frontline professionals and their families through education, information and training. The author and motivational speaker who found the company is releasing his book under Generation - Help as a beginning tool to work with law enforcement who are suffering from PTSD.
Author David R. Dicks is a gifted writer and his powerful stories are based on true events. His ability to drive home his point is mysteriously gripping. His writing technique is certainly attributed to his visual and cognitive high points, but most likely his gift exploded after his honorable discharge from the U.S. Navy during the Gulf War.
David's book Poverty Cops "Inner Darkness" is an attempt to drive home the fact that police suicide is real and not imaginative. David lost several colleagues as recent as 2010 after leaving the police department. On the day David was appointed chief, his darkest hour transpired when his oldest son was murdered as he accepted his appointment to the office of chief. He was traumatized at that very moment, and later showed signs and symptoms of PTSD.
Worldwide, cops are screaming for help in darkness, and those affected by PTSD are afraid that you might criticize them. No cop is willing to share his or her desire to commit suicide with police administrators or partners on patrol because they might be labeled as weak. Statistics show that "police suicide is higher than the general population," Langston, E. (1995). Police suicide: A national problem.
Websites: www.generation-help.com and www.geefilms.com
317.690.7584
###