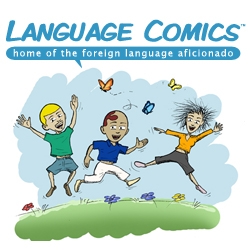 Houston, TX, May 29, 2011 --(
PR.com
)-- LanguageComics.com helps French and Spanish learners strengthen and expand their vocabulary base. They subscribe to an online comics series, which unlike other e-comic websites, is created with the foreign language learner in mind.
Subscribers have access to new episodes posted regularly in the language of their choice. A handy interactive translation feature helps struggling readers follow along. Only "advanced" words or expressions are translated to English.
"We want students to build confidence as they read non academic material in their leisure time. It is always encouraging to students to find real life applications for content acquired in the classroom. Reading and learning on their own away from school helps justify their foreign language class," says Andy Lelo, storyteller for LanguageComics.com.
Combining entertainment value and educational support, LanguageComics hopes to reach more that just visual learners. "Our objective is to be a tool of choice for motivated learners who seek to keep in touch with their target language for the long run," says Lelo.
Source:
www.LanguageComics.com
Contact: Andy Lelo, of LanguageComics.com Team
info@languagecomics.com
###