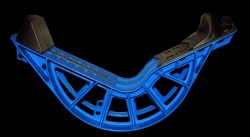 Colleyville, TX, June 14, 2011 --(
PR.com
)-- Medi-Dyne Healthcare Products announced today the introduction of the new
ProStretch Plus
. The new ProStretch Plus incorporates the most integral patented design aspects of the Original ProStretch, including the rocker bottom and the off-set of the heel and toe plates and improves on this rich history of success with a next generation product that is fully customizable to meet the more demanding needs of today.
"While the Original ProStretch and StepStretch were good products for their time, they were really one-size-fits-all," states Craig DiGiovanni, VP Sales, Medi-Dyne, "With the new ProStretch Plus we've incorporated input from medical professionals and athletes from around the world to develop a fully customizable stretching tool that delivers superior results to a significantly larger group of users."
Among the unique features of the ProStrech Plus are:
Rocker Bottom: The patented ProStretch Plus rocker design automatically holds your foot in the optimal position for providing a biomechanically accurate and efficient stretch that's been proven to work the lower leg muscles more effectively.
Adjustable Heel Rest: Unique adjustable heel rest allows you to increase or decrease the degree of stretch, enabling the user to "progress their stretch" as they become stronger and more flexible.
Removable Toe Lift: Exclusive removable toe lift delivers maximum toe and Plantar fascia stretch. Perfect for engaging the entire interconnective chain of the lower leg for unparalleled results.
Larger Platform: Larger, continuous platform provides increased comfort and stability. Fits up to size 14 shoe.
Durable & Portable: Engineered to be stronger and lighter, making it even more portable to increase patient/athlete compliance with prescribed routines.
Stretching Guide: Includes
detailed, illustrated stretching guide
with targeted Gastroc, Soleus, Achilles tendon, Plantar fascia and toe stretches.
"The predecessor to the ProStretch Plus, the original ProStretch® and StepStretch®, have been used by athletic trainers and physical therapists as well as amateur and professional athletes around the world for 20 years," note DiGiovanni, "Those that have seen and tested the ProStretch Plus have been very enthusiastic about the opportunity to use it with all of their clients and athletes. We all believe we've made significant progress in the area of lower extremity stretching."
Introductory video can be viewed at on :
http://www.youtube.com/watch?v=8NMDhDfE7QE
About Medi-Dyne Healthcare Products
Medi-Dyne Healthcare Products is a global healthcare company dedicated to providing innovations in pain prevention. Medi-Dyne's contributions to the healthcare market include over sixty patented foot care, blister care, stretching and strengthening innovations.
www.Medi-Dyne.com
###