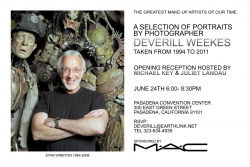 Pasadena, CA, June 14, 2011 --(
PR.com
)-- Visionary Cinema publicity is proud to announce Deverill Weekes' gallery show, debuting on June 24, 2011 at the Pasadena Convention Center. This unique show celebrates the greatest of the modern makeup artists by showcasing their images – often unknown to the general public – with a series of unforgettable portraits. Taken from 1994 to 2011 spanning three countries, the photos represent all walks of artistry from "straight" makeup artists to those who celebrate in the effects side of the industry. Names participating in the show include:
ADI (Tom Woodruff Jr. and Alec Gillis)
Bill Corso
Charles Porlier (Canadian)
Chris Tucker (UK)
Christien Tinsley
David Delone
Dick Smith (Oscar Winner*)
Greg Cannom (3-time Oscar Winner*)
Howard Burger (Oscar Winner*)
Jeff Dawn (Oscar Winner*)
Joanne Gear
Joel Harlow (Oscar Winner)
John Chambers (Honorary Oscar*) (since deceased)
Kazuhiro Tsuji
Kenny Myers
Kevin Haney (Oscar winner)
Legacy FX
Leonard Engleman
Linda Mason
Mathew Mungle
Michelle Burke (2-time Oscar Winner*)
Mike Elizalde
Mike Westmore (Oscar Winner*)
Tom Savini
Nick Dudman (UK)
Neil Gorton (UK)
Paul Starr (since deceased)
Peter Robb-King (UK)
Rick Baker (7-time Oscar Winner*)
Barney Burman (Oscar winner)
Sharon Gault
Stan Edmonds
Stan Winston (4-time Oscar Winner*)
Steve Johnson
Steve La Porte
Stuart Freeborn (UK)
Sue Cabral
Todd McIntosh
Toby Lindala (Canadian)
Ve Neill (3-time Oscar Winner)
Vincent Longo
All interested parties must RSVP to deverill@earthlink.net or call 323-634-4939.
The opening reception is to be hosted by Michael Key and Juliet Landau and is sponsored by MAC cosmetics.
Pasadena Convention Center
300 East Green Street
Pasadena, CA 91101
June 24, 2001 – 6pm-8:30pm
###