Tampa's Intelligent Office® Wins Two Awards for Contributions to Local Economy and Community
Intelligent Office activities and contributions also position VP Karen Gillman as finalist for local award by the Tampa Bay Business Journal.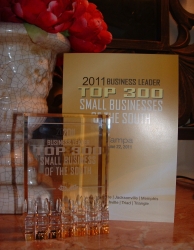 Tampa, FL, June 24, 2011 --(
PR.com
)--
Intelligent Office
® in Tampa was named the 11th Top Small Business in the Tampa Bay market and the 87th Small Business in the Southeastern United States as part of the "2011 Top 300 Small Businesses of the South" award sponsored by Business Leader Media.
For the fourth consecutive year, Business Leader honored the Top 300 Small Businesses of the South. At an annual dinner held at Tampa Palms Golf and Country Club on June 22, Business Leader recognized the most dynamic small businesses that have exhibited strong historical financial results, positively impacted in the local economy and made a difference not only in business but also in the greater community.
This year, Business Leader incorporated a new format to rank businesses from nine southern markets, including Tampa, against each other and recognition events are planned for Atlanta, Nashville, Memphis, Miami, Tampa, Jacksonville, Raleigh, Greensboro and Charlotte from June 20th to 27th, 2011 to honor the winners.
"Earning a place on the Top 300 small businesses list is a new and significant accomplishment for our team," said Gillman, who manages a team of seven employees. "It's humbling to be ranked against other companies in this way, but we are grateful to be included on the list and we'll continue working hard to honor the faith others put in our company every day."
News of placing in the Top 300 came right after Intelligent Office vice president of sales and marketing, Karen Gillman, received notice that she is a finalist for the Tampa Bay Business Journal's "Business Woman of the Year" award. Gillman was nominated for her leadership and accomplishments in the "business services" category.
Intelligent Office® serves over 250 local businesses with virtual office solutions, shared office space, and receptionist services. All services are customized on an a la carte basis to fit the needs of the small business owner.
"This is an economic yet professional solution for companies looking to reduce their overhead," said Tampa's Intelligent Office® vice president of sales & marketing, Karen Gillman.
Contributions to the Local Economy
As a virtual office, Intelligent Office® provides its clients with a prestigious address and phone calls are answered in the client's company name. Clients can rent meeting rooms or offices by the hour without the need for mortgages or leases on expensive commercial property.
Business owners appreciate how quickly they can begin operating seamlessly in a location that contributes to their branding and professionalism, and the dedicated staff assists in answering calls, greeting customers, arranging catering and providing some additional clerical services.
Contributions to the Community
As past president of her BNI Profit Pros chapter, founder of a women's networking group called Charity Chics, and an ambassador for Hillsborough Achievement and Resources Centers (HARC), Gillman leads by example, winning new clients and high praise for Intelligent Office® every step of the way.
"We have dedicated ourselves to building connections," Gillman said, "and in the process we've become a hub for networking and educational opportunities for small businesses in this community."
Tampa Bay Small Business Jumpstart
Combining concern for both the economy and the community, Karen Gillman is also a founding contributor of Tampa Bay Small Business Jumpstart, a collaboration of a handful of local business owner who donate over $25,000 in pro bono services to an aspiring entrepreneur. The winner of each year's competition receives a full boat of Intelligent Office® services tailored to suit the needs of their new business.
No stranger to award competitions, Karen Gillman was one of three finalists for the 2010 Greater Tampa Chamber of Commerce's "Business Leader of the Year" award, and Intelligent Office® was recognized as a semi-finalist for the chamber's "Business of the Year" award in 2009.
About Intelligent Office®
Intelligent Office® is the national leader in virtual office solutions, shared serviced office space, and receptionist services. Intelligent Office® offers professional, temporary and virtual office space with all the amenities of a real office, and memberships include address services, remote receptionists, phone numbers, a la carte business services and nation-wide meeting spaces. All services are customizable to fit varied business needs, offering a smart, affordable and easy way to work from home, another office, or on the road. As part of the national franchise, the Tampa location currently serves over 260 business professionals. For more information on Intelligent Office®, visit www.intelligentoffice.com or call the Tampa office at 813-350-7800.
About Business Leader Media
Since 1989, Business Leader Media has focused on providing regional business profiles, business news, leader profiles, and best practices to C-level executives and business owners. Business Leader Media develops magazines, Web sites, e-newsletters and events that support the critical local market information needs of business leaders.
###
Contact
Intelligent Office
Karen Gillman
813-350-7800
www.intelligentoffice.com

Contact