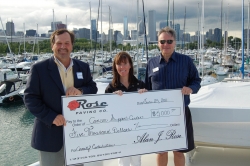 Bridgeview, IL, June 29, 2011 --(
PR.com
)-- As part of its corporate community relations program, Rose Paving Company, headquartered in Bridgeview, IL, has donated $5,000 to the Cancer Support Center, a place of help, hope and healing in the Chicago Southland. Alan Rose, CEO, presented the donation on June 23. In attendance from the Center were Melissa Barrett, Executive Director, Kathleen Jackson; Chief Development Officer; and Steve Kelley, President of the Board of Directors.
The donation will go towards sponsorships of the 20th Anniversary Golf & Tennis Outing in July, the 13th annual Walk of Hope in October, as well as Halloween and Holiday Events. These sponsorships and events help fund comprehensive resources that help people improve their quality of life during the cancer experience. All programs are facilitated by experienced clinical professionals, and services are always free of charge to anyone affected by cancer in 70 Chicago Southland and Northwest Indiana communities.
"Alan Rose and Rose Paving have been long-time supporters of our mission. We are able to provide services to men, women and children in our community living with cancer because of this history of generous support," said Melissa Barrett, Executive Director of The Cancer Support Center. "More than 2,000 individuals and families come to us each year for wigs, education, counseling or support programs and they find a place to face their cancer diagnosis with hope and understanding. At The Cancer Support Center we offer services to the entire family at no charge, because we understand that cancer impacts the entire family. This gift continues to provide much need financial support which is crucial to our ability to provide these services."
"Reaching out to the surrounding community is of tremendous importance to all of us at Rose Paving. We are grateful for the opportunity to sponsor these important events, and we enthusiastically support the extraordinary efforts of The Cancer Support Center, which helps to improve the quality of life to those families stricken by cancer," said Alan Rose, CEO.
In addition to this effort, Rose Paving's community relations program contributes to or sponsors a wide-range of community endeavors throughout the year. Read more about the program at www.rosepaving.com/community-outreach.
About Rose Paving Company:
Rose Paving Company leads in providing complete parking lot management solutions to commercial and industrial properties nationwide. Through strategic business units (SBUs), unique in the industry, Rose Paving is able to offer an expert approach to parking lot management for each situation or circumstance in a specific region.
Rose Paving performs all services related to paving including asphalt patching and repair; asphalt resurfacing; advanced sealcoating; hot cracksealing; installation and repair of concrete curbs, walks and pads; storm sewer repair and installation; lot marking; and green paving solutions.
Established in 1974, Rose Paving Company has three decades of leadership and an impressive, nationwide customer base. Rose Paving is a privately held company that maintains its corporate headquarters in Bridgeview, Illinois, and operates branch offices nationwide.
###