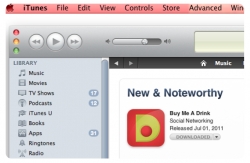 New York, NY, July 08, 2011 --(
PR.com
)--
Buy Me A Drink (BMD)
was created by a Girl Who Wanted A Drink, the location-based App provides all the elements needed for users to enjoy a great night out. From socializing to music discovery, bringing the oldest pick up line in the book to the mobile generation.
Buy Me A Drink allows you to meet new Thirsty people at any Party Spot or catch up with old friends, rewarding you with New Music downloads in your Party Gift Bag to enhance your night out, all this while enjoying your favorite drinks.
"The idea behind BMD is to reinvent the purpose of a traditional check-in and motivate our tech-driven generation to socialize the old fashion way, without giving up on the new technology we so much love," says Silvana Carpanelli-Hayes, Founder of Buy Me A Drink
"Women get dressed up and go out with a wide variety of expectations and when you get to the club it's impossible not to notice that both genders have forgotten how to interact face-to-face. Many times girls want to make the first move but rejection can be pretty brutal, that goes for men too. They seem to have forgotten the lost art of starting a conversation over a drink. That's where Buy Me A Drink comes in," she explains
Buy Me A Drink empowers its users with the tools to connect with others on the spot after browsing IDs. They could be new people, or friends that happen to be at the same venue, the App doesn't make suggestions on where to go or who to meet, it simply shows you that everywhere you go there are people who want to have a drink with you, but they just don't know how to ask.
A unique aspect of this Free App is that the more you use it the more you get, and because no great night out is complete without great music BMD introduces a Music Discovery feature where users are rewarded with music downloads on the house, just for Joining and using Buy Me A Drink.
The App will be available for
download exclusively on the US iTunes Store
where it is featured as New and Noteworthy in the Social Networking section. The worldwide release fill follow, including Android and Blackberry platforms.
###