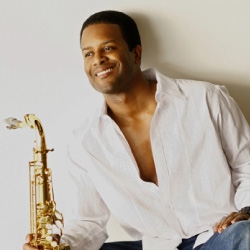 Carson City, NV, July 22, 2011 --(
PR.com
)-- 7th Note Entertainment, Inc. is proud to guide the exploding career of multi-talented saxophonist, singer and songwriter, Andre Delano. His new single, "S'posed to Be" remained one of the top downloaded R&B songs on CD Baby.com during its late spring release. In addition, Delano was just added as headliner to perform August, 12, 2011 – 8:00 p.m. at the Infiniti Summer Concert Series, Newport Beach, CA with special guest Tom Braxton.
"This is such an amazing time in my life," states Delano, "And I owe my emerging success not only to the incredible artists who allowed for me to study under them, but also to my growing fan base. The fans went out of their way to download my new single and continue to show me so much love with their supportive emails and posts."
Delano performed his new single "S'posed to be" for the first time on the Mic Wom Show and the performance continues to gain hundreds of YouTube views at: http://www.youtube.com/watch?v=KPC0K80CjPk
"When the 7th Note Team decided to steer Andre's career a couple of years ago, we knew we had something special on our hands," states James Slater, Vice President of 7th Note. "Andre's performances have always been full of life and I truly believe he has finally earned his wings and is beginning to fly."
In addition, Andre Delano has launched his "Saxy Summer Madness Series." Delano has been releasing one saxophone instrumental per month only available for music download. These new releases are the follow-up from his first single, "S'posed to be." All songs are intended for Andre's upcoming CD, Life as I See It. The summer release schedule is as follows:
1. June 21, 2011- "Falling N Luv Again"
2. July 21, 2011- "Energy"
3. August 21, 2011 – "S.E.X."
"I am extremely excited about these releases! The fans have requested some instrumental music from me and I definitely aim to please. The feedback so far has been incredible," states Delano. "These songs are all about love and have very strong 'sax/sex' appeal. I have been working diligently to prepare them and can't wait for all to hear."
Delano will be giving up-to-the-minute updates about the songs, the writers and guest performers on his Facebook fan page: http://www.facebook.com/home.php#!/home.php?sk=group_144028228980031
For more information about Andre Delano visit http://www.andredelano.com. For interviews or booking information please contact Ty Marketing and Promotions at 818.921.0635 or tymarketing@hotmail.com.
###
About Andre Delano (www.andredelano.com) is one of the hottest new singers, saxophonists, writers, and producers to hit the music scene. Delano just finished a three year stint as the touring saxophonist and background vocalist for Lionel Richie. He has also performed with Maxwell, Usher, Christina Aguilera, Stevie Wonder, Billy Ray Cyrus, Donnie Osmond, Jeff Lorber, Doc Powell, Bobby Lyle, Chieli Minucci and Peter White just to name a few.
About the Infiniti Summer Concert Series featuring Andre Delano with Special Guest Tom Braxton This concert will be held at the Hyatt Regency Newport Beach's very own outdoor amphitheater. With the back bay views, the lush walkways and reflection of the tropics, this one of a kind setting makes it the most intimate venue for Southern California's premier concert events. There is an option to purchase a gourmet dinner buffet before the show in the Sol Restaurant or outdoors on the terrace. No dinner reservations are required. Seating begins at 5:30p.m. Concert begins promptly at 8:00 p.m.
Friday, August 12, 2011, 8:00 p.m.
Hyatt Regency Newport Beach
1107 Jamboree Road
Newport Beach, CA 92660
Phone: 949-729-6400
Tickets: http://summerjazzseries.tix.com/Event.asp?Event=364072
E-Mail: summerseriesboxoffice@dc.rr.com
About 7th Note Entertainment, Inc. is a multimedia, marketing and promotions company committed to supporting quality entertainment from a wide array of music genres. 7th Note distinguishes itself from other entertainment companies in that each person involved – from executive to artist – has a voice, an opportunity to learn and the ability to use their creative skills in a productive environment. Ty Marketing and Promotions is a subsidiary of 7th Note Entertainment, Inc. 7th Note's main offices are located in Carson City, NV.