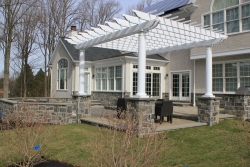 Douglassville, PA, July 29, 2011 --(
PR.com
)-- The homeowners at this residence in West Chester, Pennsylvania, didn't want their patio to look out of place. They wanted a patio to be designed using products that would blend in nicely with the existing natural stone previously used for much of the exterior of the home. Jim Downend, owner of J. Downend Landscaping, Inc., had the answer:
Rinox Pavers
. Prado and Phenix
pavers
, two of Rinox's latest offerings were selected, due to their close resemblance to natural stone.
Downend did not want to create just a large, plain, open-spaced
patio
. He wanted to create a patio with an interesting design that also served several purposes. J. Downend Landscaping, Inc. created three different sections to the patio: a cooking area complete with granite countertops, an outdoor dining room, as well as an area to relax or entertain complete with a
fire pit
. The combination of various Rinox pavers, different elevations and natural stone all helped to achieve a more dramatic and comfortable space. Essentially, they have extended their indoor living space to the outdoors. This gorgeous outdoor retreat took some thought to design properly and needed to be executed with skill. Combining different textures and defining spaces is a key element to good hardscape design.
J. Downend Landscaping, Inc. skillfully combined natural stone and Rinox pavers to achieve the homeowners' desired results from the pergola, to the natural stone seat walls, to the bluestone used throughout several details of the project. The expectations for Downends' projects are high, and once again they've been exceeded. Rinox is pleased to have J. Downend Landscaping, Inc. as a member of their Preferred Contractor Program.
Rinox Pavers is an industry leading manufacturer of concrete paving stones, patio pavers, retaining wall systems, landscape block and masonry products and has continued to make dreams come true in private homes and commercial settings throughout the Northeast United States and Eastern Canada. Rinox distributes their material through authorized dealers from their Pennsylvania facility to New York, New Jersey, Pennsylvania, Delaware, Maryland, Washington D.C., North Carolina, Virginia, and West Virginia. Rinox proudly displays their hardscape materials at local outdoor showrooms and offers instructional classes for the do-it-yourselfer. For those interested in having a contractor quote a hardscape project, log on to www.rinoxpavers.com to get started. For more information, or to enter your Rinox job into our "Project of the Month" contest please contact us at www.rinoxpavers.com or call 1-866-99-RINOX.
###