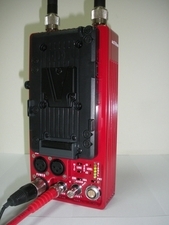 Tel Aviv, Israel, August 04, 2011 --(
PR.com
)-- ABonAir, a leading provider of Wireless HD Video solutions, has launched a new wireless HD product – the AB310HD™ Wireless Video Link.
ABonAir's AB310HD™ is a mid-range wireless video system enabling camera teams to send HD video content wirelessly from a camera to a news truck.
The AB310HD™ supports HD-SDI and composite inputs, HD and SD video in all resolutions and frame rates, audio inputs either from microphone or embedded in the HD-SDI signal, bi-directional data links, radio signal indication, and more. The system supports a minimal delay of 170 msec and a variety of antennas that can allow video transmission of up to 1 km in range.
ABonAir's unique algorithms achieve unmatched picture quality, stability and range. They are built on ABonAir's video streaming technology with its continuous bit-rate adaptation mechanism and a set of unique algorithms that make the AB310HD™ the best solution available today.
"We are proud to launch this product as it supports a wide variety of applications and uses within the broadcast industry. The current dynamic environment requires field cameras to have fast-deployment time, flexibility and mobility for the photographer, and we have enabled all this functionality within our AB310HD Wireless Link ™ product," says ABonAir CEO Eran Igler.
The AB310HD™ utilizes the latest H.264 codec along with specially developed RF algorithms to achieve professional-grade, quality, mobility and flexibility of use.
ABonAir will exhibit the new AB310HD™ at the coming IBC show. Visit them and experience firsthand how wireless HD link works. IBC, Sep. 9-13th, 2011, Booth 3.A15m, Amsterdam.
About ABonAir Ltd.
ABonAir Ltd. is a leading provider of Wireless HD Video solutions for Broadcasting, Electronic News Gathering, Sport Events, Reality Shows, Homeland Security, and Defense.
ABonAir delivers a Wireless Microwave link that enables video transmission from field cameras directly to a news track, broadcast tower or monitoring station.
We provide our customers with a comprehensive range of system-design services, ready-to-use systems, turnkey projects, and subsystem design and development services, offering a broad range of solutions in the realm of wireless video deployment.
###