Super Sized Giant Squid Adventures - Sea of Cortez
Giant Squid diving adventures in the Sea of Cortez celebrates its second season. New 5 Star Resort added to the operation.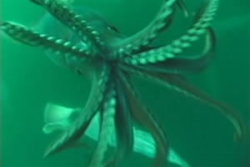 Long Beach, CA, March 29, 2007 --(
PR.com
)-- Scott Cassell knows Giant Squids (Dosidicus gigas). He's been diving with them for the past 11 years in the Sea of Cortez and been the subject of numerous articles and documentaries about these unique predators. For the past two years he's been teamed up with sharkdiver.com to bring the wild world of deep water giant squid diving encounters to a growing legion of divers from around the planet.
Recently Scott's wrapped up two major film productions involving giant squids, Discovery Channel's "Killer Squid" and Animal Planet's "Upclose and Dangerous."
"These are the least understood animals in the ocean today," says Cassell, "we are working with researchers and film crews to discover more every day."
Eco-adventurer and Shark Diver CEO Patric Douglas was thrilled at the latest news from this team. "Aside from being perhaps the most unique animal encounter on the planet today, divers who book these trips and dive with these animals are also helping drive the research efforts."
Early in 2007 the giant squid team moved operations to the 5 star luxury hotel and resort Inn at Loreto Bay. "This move brings high adventure and plush accommodations to giant squid diving," says Cassell, "basically it's something the whole family can now enjoy."
There are few places in the world that feature consistent sightings and
interactions with giant squids as Loreto in the Sea of Cortez. Cassel speculates, "this site is perhaps the most productive giant squid site in the area." As he and his team have discovered, "we are expanding the scientific knowledge base of these animals and on every dive we experience new behavior and are witnessing something incredible. It's like a marine smargasborg down there!"
To see giant squids in action in action from March through November, call Shark Diver at 888.405.3268 or visit www.sharkdiver.com to book your trip today.
About Scott Cassell and Shark Diver
Since 2002, Sharkdiver.com has introduced divers of all ages to the extraordinary world of cage diving with Great White Sharks. In the last few years Shark Diver has expanded to offer cage diving trips with Tiger Sharks in the Bahamas, Giant Squid encounters, Whales Sharks in Honduras, as well as deep-dive submarine trips to see giant deep water sharks in Roatan.
Scott Cassell
Diving since 1977, Scott has accumulated over 11,000 hours of dive time. His experience ranges from being a rated mixed-gas commercial diver, explorer-film maker, a 20+ year veteran of Closed Circuit Rebreather technology, and a USCG qualified Submersible Pilot.An Advanced Diving Medical Technician Instructor (1 of 10 in the USA), Commercial Diving Instructor, and Hyperbaric Medical Technician Instructor he taught for years at the College of Oceaneering. He is also a PADI Instructor. He is featured as 'on screen talent' with MTV's WILDBOYZ as well as 'extreme cameraman'. His work with Giant Humboldt squid has been featured on over four Discovery Channel productions and the BBC around the world. Currently a U.S. Navy qualified Diving Supervisor and Dive Medical Technologist, he works in Maritime Counter Terrorism Operations for his client companies where his secret operations continue involving 'high risk' world regions.
###
Contact
Shark Diver
Patric Douglas
415.235.9410
www.sharkdiver.com

Contact