Los Alamitos Show Choir Explodes Into Audience During Finale of "Hairspray" at the Hollywood Bowl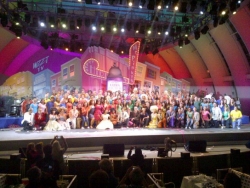 Los Alamitos, CA, August 09, 2011 --(
PR.com
)-- The third and final performance of "Hairspray" at the Hollywood Bowl was spectacular. An amazing cast was clearly enjoying themselves on stage and during the reprise of "You Can't Stop the Beat" where more than 100 choir students from Los Alamitos High School joined in on the fun. They came running out to dance and sing in the aisles to that catchy tune, with music by Marc Shaiman, lyrics by Scott Wittman and Marc Shaiman. Dressed in bright colored t-shirts to match the set, these teens really added to the excitement of the finale.
With less than a week's notice, in the middle of summer vacation, Mr. David Moellenkamp, choir director, managed to pull together 100 plus kids to spend three days rehearsing and three nights performing. "It is just a great way to kick off the year," exclaimed David Moellenkamp, "these kids have really stepped up and shown themselves to be excellent performers on such short notice."
On Sunday the surprise announcement that the Los Alamitos Choir would join the cast on the iconic Hollywood Bowl stage for a final bow and photo op, made closing night extra special. The kids were ecstatic and so grateful to the generosity of the all-star cast in their time. Many of the students were able to take individual photos with stars and lots of hugs and handshakes were exchanged. "It's hard to top an experience like this," Mr. Moellenkamp stated, "but we will work hard to do just that."
The Los Alamitos High School choir program boasts five choirs, and will have over 280 students enrolled this school year. "Many of our students are involved in multiple choirs," states David Moellenkamp, "and we have seen the program really expand over the past couple of years."
In April 2011, Mr. Moellenkamp took two of the Los Alamitos show choirs to New York for a national competition. Sound FX is the advanced mixed show choir of 54 students who delivered a "Harry Potter" themed performance that was a real crowd pleaser. It was also a favorite of the judges, as they gave Sound FX top honors in music, choreography, costumes, a cappella and first place which named them "National Champions." The second choir being Soundtrax, the advanced all-women show choir of over 50, wowed the audience with their "Desperate Housewives" set of song and dance. Soundtrax also swept the awards and were named "National Champions." Following their national titles won on the stage of the Grand Ole Opry, as presented by Show Choir Nationals, Los Alamitos is most definitely a major force in the world of show choirs.
Los Alamitos will present four shows throughout the school year. Their first show will be "Broadway on the Big Screen" and you can be sure "You Can't Stop the Beat" will have a starring role. The Broadway show will be October 13, 14 and 15.
###
For more info about the choir program at Los Alamitos High School, please visit our website: www.lahschoir.org or email lahschoir@gmail.com
For ticket information: choirtix@gmail.com
To schedule an interview with David Moellenkamp, please call Lynnette McMahon at 562-756-4294 or email Lynnette at lahschoir@gmail.com
Contact
Note-Ables Booster Club
Lynnette McMahon
562-756-4294
www.lahschoir.org
Follow us on Twitter: http://twitter.com/LosAlShowChoir

Contact