Pacific World Marketing Announces the Distribution of JS' Decorative Support Ribbon by Arkansas Flag & Banner (FlagandBanner.com), Based Out of Little Rock
Pacific World Marketing is pleased to announce the distribution of JS' Decorative Support Ribbon by Arkansas Flag & Banner (FlagandBanner.com), based out of Little Rock, AR.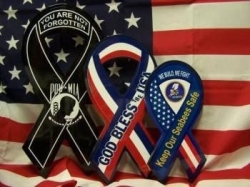 Brentwood, CA, August 10, 2011 --(
PR.com
)-- Arkansas Flag & Banner began in 1975 and is celebrating their 36th year in business. Since then, the company has grown to offer flags, banners, pennants, hardware, and other patriotic products to customers around the world.
Each JS' Decorative Support Ribbon is handcrafted by the owner and manufacturer. The support ribbons are available in three sizes 12", 16" and 20" and a variety of themes. JS' Decorative Support Ribbon are made of poplar wood, decorated using vinyl paint, and then clear coated. In short, they look great and are made to last.
The wood ribbon was invented in a backyard shop, in the Central USA. The ribbons are a U.S. Patented product, and 100% made in the USA. These ribbons can be customized for all causes, but have gained great popularity in Military Support. JS' Decorative Support Ribbons are made to hang on or in your home, with Pride, for whom or what you support.
Made by Americans, for Americans! Produced with patriotic pride!
Arkansas Flag and Banner is proud to add this high quality American made product to offerings, now 22,000 products available online at FlagandBanner.com.
About Pacific World Marketing.
Pacific World Marketing based out of Brentwood, CA is a leading provider of product development and marketing. The company's broad ranges of services are designed specifically for new and innovative products. Pacific World Marketing specializes in marketing and licensing patents. The company offers its services for hardware, sporting goods, technology, toys, housewares, gifts, health and beauty, medical, outdoor, office, lawn and garden, pet, office supply and automotive product categories.
Our innovative products can be found in Target, QVC, Ben Franklin Stores, Sears, Amazon.com, ATG Stores, LivingDirect, ChefTools, IHome.com, Golda's Inc, Toys R US and Matco Tools, Napa Auto Parts. For more information please visit
www.pacificworldmarketing.com
About Arkansas Flag and Banner, Inc.
With 36 years experience in the flag business, FlagandBanner.com is your one-stop resource for not just the American Flag, but all things flag and banner. We are one of America's most innovative producers of high quality, environmental graphics and soft signage. We can execute even the most complex, mixed-media designs using virtually any combination of materials, and we are one of the few companies that can create banners at competitive prices and do so in-house and fast! Our in-house facilities also give us the flexibility to do any job, large or small. On our website,
www.flagandbanner.com
you will find over 22,000 patriotic products. From American flags to patriotic jewelry, we do it all.
###
Contact
Pacific World Marketing
Kenneth J. Maghuyop
925-634-1140
www.pacificworldmarketingllc.com

Contact