Patents Awarded for Captiva Spine's Proprietary Pivotec® Articulating Lumbar Interbody Fusion Device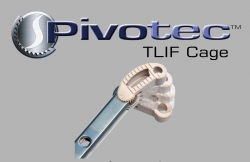 Jupiter, FL, August 16, 2011 --(
PR.com
)-- Captiva Spine, Inc., a medical device organization dedicated to developing and distributing spinal technologies in the US and internationally, announced today that two new patents have been awarded by the USPTO for Captiva Spine's Proprietary PIVOTEC® Articulating Lumbar Interbody Fusion Device.
Dale Mitchell, President and Founder of Captiva Spine said, "The PIVOTEC® has proven to function with reliability and exceptional control in the hands of surgeons throughout the U.S." Mitchell added, "This unique and patented TLIF (Transforaminal Lumbar Interbody Fusion) technology has been specifically designed to address the challenge of controlling cage insertion and manipulation during surgery, and has exceeded our performance expectations."
As a result of PIVOTEC's® strong performance for improved control and safety in surgery, Captiva Spine is ramping up production of instrumentation and implants to support demand. Distributor inquiries are welcome.
About Captiva Spine, Inc.
Founded in 2007, Captiva Spine is a privately owned medical devices organization headquartered in Jupiter, Florida. The company's mission is to provide the market place with a comprehensive range of reliable high quality spinal technologies. Our core competency resides in our ability to understand the reality of the operating room, allowing the organization to identify and develop tangible spinal solutions. Captiva Spine markets a full range of fusion technologies in the US and Internationally.
Source: Captiva Spine, Inc.
Contact: Dale Mitchell, President
Tel: 877-772-5571
Dale@CaptivaSpine.com
Web address:
http://www.captivaspine.com
###
Contact
Captiva Spine, Inc
Dale Mitchell
877-772-5571
www.captivaspine.com

Contact