Barron Partners Continues to Invest in Tennessee-Based Company, Choice Solar Solutions
Choice Solar Solution; backed by global clean-tech investment company; Barron Partners, "facilitates" green job growth in Tennessee, with the opening of its East Tennessee branch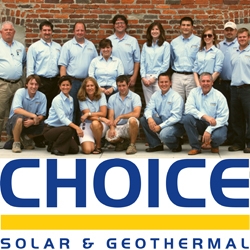 Nashville, TN, August 17, 2011 --(
PR.com
)-- Global clean-tech investment company Barron Partners, recently made an additional investment in Nashville-based Choice Solar Solutions, the parent company for Choice Solar & Geothermal Inc., driving the expansion of the company into East Tennessee and facilitating renewable job growth for the state.
Choice's expansion to East Tennessee was announced recently at the Tennessee Solar Solutions Conference hosted by the Tennessee Valley Authority (TVA) and the Tennessee Solar Institute (TSI). The conference highlighted the successes of the solar industry and the potential of this clean energy technology in the state.
The explosive growth in the solar value chain as well as installations in Tennessee caught the attention of Barron Partners.
CEO Andrew Barron Worden, stated, "The State of Tennessee, TVA, and TSI have truly stepped up to the plate. Collectively, they are not only accelerating economic development, but are drawing the attention of investors like ourselves through their continued support of renewable energy projects and incentives. Their commitment to job creation and clean, reliable energy continues to be a driving factor for our investment in Tennessee-based Choice Solar Solutions, a leading solar installer in the TVA region."
"It is encouraging to hear of Tennessee businesses like Choice Solar & Geothermal continuing to expand in the Volunteer State," said Molly Cripps, Energy Division director, Tennessee Department of Economic and Community Development. "Governor Haslam's Jobs4TN plan focuses on key clusters in which we believe Tennessee holds a competitive advantage – including Advanced Manufacturing and Energy Technologies. Solar successes such as this one helps us grow Tennessee's presence in the clean energy industry and creates a strong business environment with the potential for high quality jobs."
Harvey Abouelata, Territory Manager for Choice Solar & Geothermal stated, "The long term investment that Tennessee has put into energy - dating back to the creation of TVA - has made our state a perfect environment for solar to continue to expand and be a leading energy supplier for the region."
Solar installations in their state have seen dramatic growth with the launch and success of TVA's Generation Partners Program in 2003. Generation Partners has and is providing a solid foundation for the advancement of Tennessee solar installations. The State of Tennessee further leveraged TVA's program with $9 million dollars in American Reinvestment & Recovery Act (ARRA) federal funding used for solar PV installation grants available to the private business sector.
These programs, along with the USDA's Rural Energy for America Program (REAP), launched Tennessee into the forefront of building the nation's solar industry. The combination of these programs allowed Tennessee-based businesses to bring even more federal funding to our state through the U.S. Dept. of Treasury's 1603 Renewable Energy Grant. In the end, Generation Partners provided a launching point that has spurred a tremendous amount of growth in the solar value chain, fueling green job growth, and bringing significant federal dollars to Tennessee.
"Choice Solar Solution's expansion and their unique approach to solar installations including their 'leasing' option is another testament to the potential that companies see in Tennessee's solar economy," says Gil Hough, President of TenneSEIA's Board of Directors and manager of the renewable energy division at Restoration Services, Inc. of Oak Ridge, Tenn.
Vice President and Director of Sales, James Lasater, reported that Choice Solar & Geothermal's new professionals are some of the top solar professionals in the Southeast. The Knoxville office will be staffed by Harvey Abouelata, Territory Manager, Lisa A. Leonard, Sales & Marketing Team Leader, Patrick West, Product Development & Estimation Manager, Lauren Steier, Business Administration & Grant Writer, Mary Shaffer Speight, Account Executive, Jason MacIsaac, Production & Installation Manager (NABCEP Solar PV Installer) and Brandt Womack, Lead Solar Installer.
Collectively, the East Tennessee team has more than thirty years' experience in the industry, having deployed over 4 megawatts (MW) of solar photovoltaic technology which has brought $5.5 million in energy incentives and generated over $11 million in private investment throughout Tennessee. "This team brings years of Solar PV experience to our years of Geothermal experience, giving us a great deal of depth to provide a one-stop shop for energy solutions for our commercial and residential clients," said Chris Dickinson, President of Choice Solar Solutions.
"Tennessee has seen an explosion in solar project growth in the past few years as a result of a perfect mix of financial programs available. Programs such as USDA Rural Development's REAP ,TVA's Generation Partners Program, the Treasury Grant, and the TSI's Grant have provided the financial feasibility of small to large scale solar installations across Tennessee. These projects provide real jobs and energy security for Tennessee and for our Nation in a time of economic uncertainty. It is simply remarkable to see an industry grow and to have the opportunity to work with renewable energy professionals such as Harvey Abouelata, Mary Shaffer Speight, Lisa Leonard and so many others who are committed to increasing our Nation's use of clean renewable energy and who make Tennessee great." – Will Dodson, Energy Coordinator, USDA Rural Development
Choice Solar Solutions provides a variety of products and services including Energy Grant Writing, Solar PV, Solar Thermal and Geothermal System design, installation, service and maintenance. The company primarily services the Tennessee Valley Authority region.
###
About
Choice Solar Solutions
Choice Solar Solutions, based in Nashville, Tennessee is the parent company for the solar and geothermal business operating as Choice Solar & Geothermal, Inc.. Choice is a well reputed project developer, and EPC company, within the Tennessee, Alabama, and South Carolina states. Focused on complete energy solutions for commercial businesses, governments, real estate developers, schools, and utility companies their customers can save on electricity costs, reduce their carbon footprint, and add business revenue, while producing reliable, sustainable energy for the community.
Choice Solar Solutions designs and installs turnkey solar electric and solar thermal systems and is a full service installer of solar and geothermal systems, Choice helps the consumer maintain operational control and maximize quality and savings. As an integrator, Choice Solar Solutions works with its customer from design to installation to grid-connection.
Website:
http://www.ChoiceSolarSolutions.com/
Social Network:
http://gosolar.ning.com/
Official Photo & Logo: http://www.flickr.com/photos/solarinstaller/sets/72157627441399710/
PR Site: http://www.pr.com/company-profile/overview/187532
Barron Partners, LP
Barron Partners, LP is an international private investment fund with a primary focus on profitable cleantech companies. Barron has invested over $450 million of its capital since its formation in 2002. Visit the website: www.barronpartners.com
About TenneSEIA
The Tennessee Solar Energy Industry Association (TenneSEIA) represents the state's largest manufacturers, installers and systems providers in the solar industry. Founded recently in November of 2010, TenneSEIA seeks to make Tennessee a leader in the solar industry though education, advocacy and networking by helping the state continue on expand on the assets Tennessee has in the solar industry.
www.tenneseia.com
You can also find TenneSEIA on Facebook.com/tenneseia and twitter.com/tenneseia.
About Green Power Switch
TVA and participating local public power companies, working with input from the environmental community, have created a program called Green Power Switch to produce electricity from renewable sources and add it to TVA's power mix.
http://www.tva.gov/greenpowerswitch/index.htm
Contact
Choice Solar and Geothermal
Harvey Abouelata
865-386-7860
www.choicemechanicalinc.com/

Contact