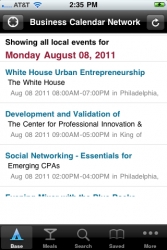 Moorestown, NJ, August 24, 2011 --(
PR.com
)-- Basecamp Business today announced the next generation of its popular Business Calendar Network (BCN) for the Apple iPhone and Business Calendar Network for Android apps, purpose-built to enhance face-to-face professional networking.
"We're not anti-social, but relying on social media alone will get you nowhere in business. Face-to-face networking remains a critical skill for anyone looking to build a business or career," said Mel Baiada, founder and president of Basecamp Business. "The first versions of our app made it possible for people to find events. This next generation helps people manage their business professional networking."
Backed by what is quickly becoming the largest database of business-related events, the BCN
mobile apps for professional networking
enable professionals, entrepreneurs, executives, and job-seekers to find the business professional networking events that will help them grow their business or their career.
The new apps feature a range of location-based features that enable users to "check into" business and professional networking events, see who else is at the event, and follow the online conversations at the event. The BCN app's built-in integration with Facebook and Twitter make it easy to interact while at an event, both in-person and online.
The new app was showcased recently at the White House Urban Entrepreneurship Forum, held in Philadelphia, where its new interactive features enabled attendees at the Forum to connect and converse both online and in person.
Other new features in the app include an improved advanced search, where events can be searched by category, location, and keyword. Users can also save searches for later recall, so a favorite searches can be called up and refreshed at any time.
The BCN app calls on event data maintained in the web-based Basecamp Business Calendar Network, found online at many of the top entrepreneurial support organizations around the U.S. Basecamp Business uses a sophisticated process to track and capture the top business events from communities across the U.S.
The free BCN for Android app is available for immediate download in the Business category of the Android Marketplace. Search for "Business Calendar Network." More information can be found at http://basecampbusiness.com/android.
Apple iPhone and iPad users can find the free BCN app available for immediate download in the Business category of the iTunes App Store. Search for "Business Calendar Network" or visit http://itunes.apple.com/us/app/business-calendar-network/id406269511. More information can be found at http://basecampbusiness.com/iphone.
The BCN app was developed by mobile developer SemperCon. The Founding Sponsors of the Business Calendar Network include the Philadelphia Alliance for Capital and Technology (PACT), the University City Science Center, Ben Franklin Technology Partners of Southeastern Pennsylvania, the Delaware Emerging Technology Center and Select Greater Philadelphia.
About Basecamp Business
Basecamp Business was founded to improve the efficiency of the entrepreneurial ecosystem. The tools and information it provides help entrepreneurial enterprises find the information, resources, and people they need to start and grow their businesses. Basecamp Business also helps business alliances and regional Economic Development Agencies to better serve their communities and accelerate the creation of new businesses in their regions by establishing an innovation infrastructure and promoting regional collaboration. Learn more about Basecamp Business and the Business Calendar Network at http://basecampbusiness.com
###